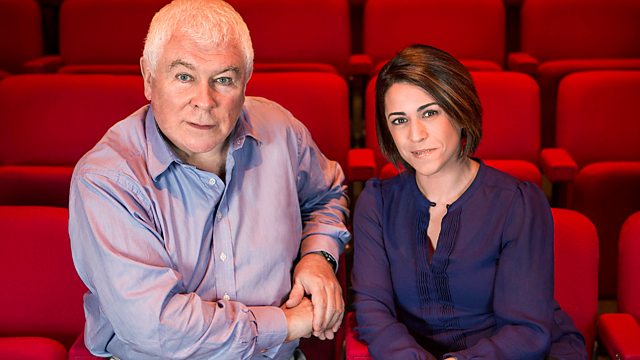 30/09/2011 Michael Ball, Imdelda Staunton, Neil Brand, Paul MacAlindin
Michael Ball, Britain's leading musical star and actress Imelda Staunton talk to Sean about their upcoming performances in Stephen Sondheim's 'Sweeney Todd' at the Chichester Festival Theatre. Sondheim's compelling musical of corruption and revenge is commonly acknowledged as his masterpiece.
Composer, pianist and writer Neil Brand joins Sean in the studio ahead of the premiere of his orchestral score for 'Underground' - Anthony Asquith's classic silent film set in 1920s London, at a special screening at the Barbican. Neil has been accompanying silent films for over 25 years and performs some of his own compositions live in the In Tune studio.
Conductor Paul MacAlindin talks to Sean prior to his concert with the National Youth Orchestra of Iraq, who perform outside Iraq for the first time, as a guest at the "Orchestra Campus" of Beethovenfest Bonn.
Presented by Sean Rafferty.
Producer Kevin Bee
Main news headlines are at 5.00 and 6.00
E-mail: in.tune@bbc.co.uk.
Last on