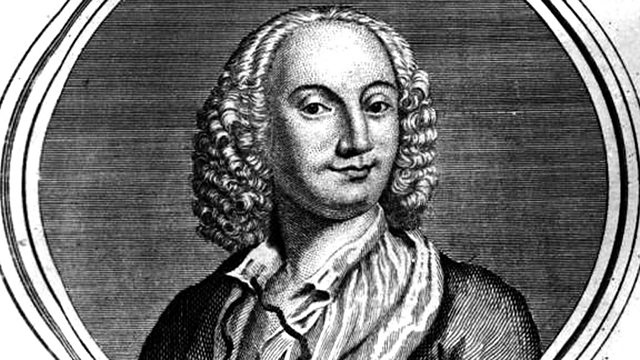 Donald Macleod sees Vivaldi embark on a professional relationship that will dominate the rest of his career, and take his first tentative steps into the perilous world of opera.
Vivaldi: La Stravaganza, Concerto No.12 in G RV.298 (3. Allegro)
Rachel Podger (violin), Arte Dei Suonatori Baroque Orchestra
Vivaldi: Bassoon Concerto in B flat, RV.503
I Musici, Klaus Thunemann (bassoon)
Vivaldi: Juditha triumphans: Mundi rector de caelo micanti
Magdalena Kozena (mezzo, Juditha), Anke Herrmann (soprano, Abra), Academia Montis Regalis, Coro Giovanile dell'Accademia Nazionale di Santa Cecilia di Roma, directed by Alessandro De Marchi
Vivaldi: Orlando finto pazzo (Act 1, Scene 1-4)
Gemma Bertagnolli (soprano, Ersilla), Marina Comparato (mezzo, Tigrinda), Sonia Prina (contralto, Origille), Manuela Custer (mezzo, Argillano), Martin Oro (counter tenor, Grifone), Marianna Pizzolato (mezzo, Brandimarte), Academia Montis Regalis, Coro del Teatro Regio di Torino, directed by Alessandro de Marchi
Vivaldi: L'estro armonico: Concerto No.8 in A minor RV.522
Elizabeth Wilcock (violin), Micaela Comberti (violin), The English Concert, directed by Trevor Pinnock.
Last on