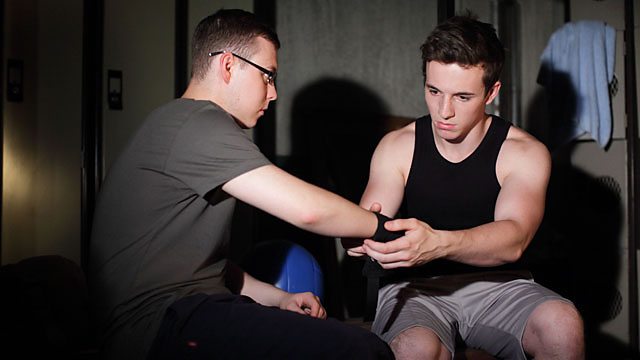 23/09/2011
Anxious when no-one comes home, Yusef tells Tamwar and Afia Zainab was agitated. Angry, Syed bangs on the door of the Masoods'; there's no reply and Kamil appears at the window. Finding Zainab unconscious, Syed calls an ambulance; Yusef insists Tamwar shouldn't call Masood. At the hospital, a doctor explains Zainab's going to be drowsy but will be fine. Yusef insists none of them knew she was taking sedatives. The family are sure Zainab made a mistake, but Yusef intimates it was a suicide attempt. Feeling guilty, Syed and Tamwar talk about Syed's overdose. Masood and Denise rush to hospital. Yusef deflects Leonard Graham, when Masood asks for his help. The family send Masood away claiming Zainab has food poisoning. Syed thinks Zainab's behaviour doesn't make sense and tells Yusef he's going to find out the truth.
Lauren and Tanya cover, claiming Tanya didn't want Lauren to tell Cora Vanessa had had a go at her. Abi brings Jay home, Tanya's angry and Abi's sulky when Lauren backs Tanya up. On the way to the Vic, Rainie and Tanya see Zainab in an ambulance and offer to take Kamil. Tanya's uncomfortable when Cora and Rainie speculate that Zainab might be 'ill'. Lauren confiscates Abi's hair straighteners and makeup; she can have one piece back every day she behaves. Arriving home, Tanya's surprised to find Abi dusting. Abi apologises. Tanya admits to Lauren the cancer's spread. She's not having a hysterectomy and starts chemo-radio therapy in a week. Lauren hugs Tanya and assures her they're going to fight this and win.
To stop Ben spending time with Christian, Phil tells him he can train with Harry and spar with Duncan. After training, Ben kisses Duncan on the cheek. He's surprised but happy when Duncan turns and kisses him gently on the lips.
Last on
Credits
| Role | Contributor |
| --- | --- |
| Dr Yusef Khan | Ace Bhatti |
| Syed Masood | Marc Elliott |
| Zainab Masood | Nina Wadia |
| Tamwar Masood | Himesh Patel |
| Afia Masood | Meryl Fernandes |
| Masood Ahmed | Nitin Ganatra |
| Denise Fox | Diane Parish |
| Tanya Jessop | Jo Joyner |
| Lauren Branning | Jacqueline Jossa |
| Abi Branning | Lorna Fitzgerald |
| Cora Cross | Ann Mitchell |
| Rainie Cross | Tanya Franks |
| Ben Mitchell | Joshua Pascoe |
| Duncan Willis | Steven France |
| Phil Mitchell | Steve McFadden |
| Christian Clarke | John Partridge |
| Executive Producer | Bryan Kirkwood |
| Director | Nicky Higgens |
| Writer | Pete Lawson |
| Jay Mitchell | Jamie Borthwick |
| Dr Arnott | Gregory Finnegan |
| Dr Leonard Graham | Tim Berrington |