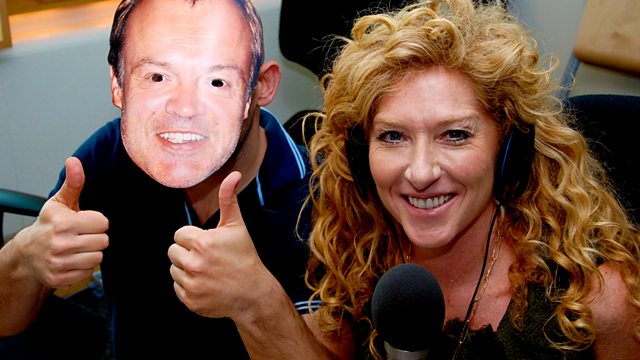 Cyndi Lauper & Kelly Hoppen - singing & designing
Graham was up early to present the first of two shows direct from the Big Apple. He took all the essentials with him: a producer, a microphone, a pair of headphones, lots of New York inspired music, and Maria McErlane.
Graham's first guest was native New Yorker Cyndi Lauper, who talked about her amazing career, her latest album 'Memphis Blues' and her new live DVD, 'To Memphis, With Love'. Meanwhile back in London top designer Kelly Hoppen was in the Radio 2 studio, and spoke about her new television show 'Superior Interiors with Kelly Hoppen', and how she tackles people with bad taste, while providing her unique and classic style. Kelly also revealed how thrilled she was to discover that her wallpaper is on the walls in Phil Mitchell's kitchen in Albert Square.
This week's 'I Can't Believe It's Not Better' song - Sweet People's 'And The Birds Were Singing' - was suggested by Neil Roberts in Birmingham. Amazingly it reached No. 4 in 1980! And in Grill Graham, after accepting her boyfriend's marriage proposal Kerry in Birmingham began to realise that he might be the last man she'll ever be intimate with. Should she go through with the wedding with such thoughts? And bonding with step-children was the dilemma of Anna in Wolverhampton.
In 'Tune With A Tale', Rachel Morrish chose one of Graham's favourite songs, Peter Sarstedt's 1969 No. 1, 'Where Do You Go To My Lovely?'. They also discussed her fancy decking in her garden.
Bobbie had all the travel news from around the United Kingdom, as well as few traffic hot spots in New York and a reference to Tony Blackburn's cheek...
Last on