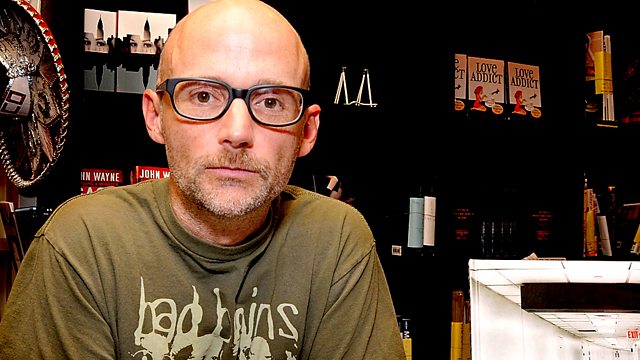 Notable among the hordes of anonymous DJs merely because he stepped out from behind his turntable to seek the attention typically awarded only to rock stars. Yet his music - a symphonic combination of disco beats, punk-rock speed, and anthemic lyrics - withstands the focus. Conveniently, Richard Melville Hall's nickname, given to him as a child (in reference to his great-great-great-uncle Herman Melville's Moby Dick), fits perfectly with the pseudonyms of his peers like Aphex Twin, the Orb, and the Prodigy, but his devout spirituality, veganism, and abstinence from alcohol and drugs are a departure from the typically bacchanalian dance scene.
The First Time With... continues with music pioneer Moby.
Moby gives Matt Everitt a candid interview crossing his entire career. Starting with how he first fell in love with music aged 3 years old, why super producer Brian Eno is his God, why the juxtaposition of the synthesiser and The Sex Pistols shaped his sound, why his multi-million selling landmark album 'Play' was a mistake and how he ended up playing 'Heroes' on the acoustic guitar with David Bowie in his bedroom, and how he found himself playing New Order songs on a London piano bar with New Order, Ian McCulloch, Mick Jones and Bono.
Last on