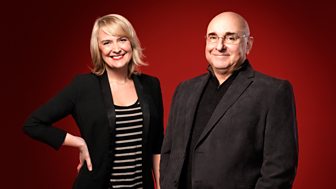 Essential Classics
Rob Cowan and Sarah Walker play definitive recordings of the greatest classical music, joined by a guest every day at 10.00am who shares their favourite music
About the Show
Join Rob Cowan and Sarah Walker in the mornings on BBC Radio 3 and discover a wide range of classical music through world-class recordings.  
During the first half hour of the show, Rob and Sarah share five reasons to love a series of connected pieces, one each day.  
9.30 is the time when you can take part in a daily musical challenge, from Mapping the Music to Imperfect Harmony and Classical Roots; e-mail your answers to essentialclassics@bbc.co.uk, text 83111 (texts cost 10p to 12p depending on the network) or tweet @bbcradio3  
At 10am throughout the week, the Essential Classics guest shares music that has a strong personal connection. And you can listen to this segment of the show whenever you like by downloading the interviews via My Essential Classics.  
There's a new feature at 10.30, Music in Time, in which pieces are brought to life in their historical context. Choosing works from the Medieval and Renaissance, through Baroque, Classical and Romantic, to the Modern era, Rob and Sarah explore the musical and cultural trends that characterize these periods.  
And at 11am listen to a major recording by a celebrated Artist of the Week - a chance to sit back and enjoy great performances by musicians and ensembles from all over the world.