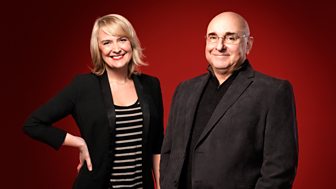 Essential Classics
Rob Cowan and Sarah Walker play definitive recordings of the greatest classical music, joined by a guest every day at 10.00am who shares their favourite music
About the Show
Join Rob Cowan and Sarah Walker in the mornings on Radio 3 and discover the greatest classical music through world class recordings. Each week, Rob and Sarah explore the recordings of an artist of the week and shine a spotlight on a series of five connected pieces, one per day between 9 and 9.30

You can also take part in our daily Musical Challenge at 9.30: e-mail your answers to essentialclassics@bbc.co.uk, or text us at 83111 (texts will cost 10p to 12p depending on the network)
At 10am throughout the week, Rob and Sarah are joined by their guest, who shares music that has a strong personal connection. 
At 11am there's the Essential Choice - a chance to sit back and hear a major work.
Tell us about your classical music discoveries, or favourite pieces you'd like to share: essentialclassics@bbc.co.uk
Essential Classics: Guest Choices
Essential Choices on BBC Playlister - archive.