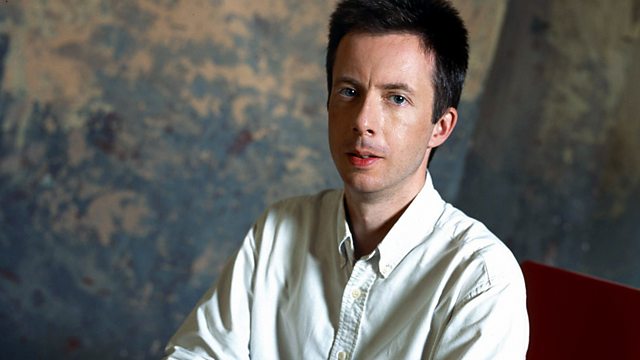 24/09/2011
John Shea presents the Bucharest Virtuosi in an all Mozart concert, including the Serenata Notturna and the Jupiter Symphony.
1:01 AM
Mozart, Wolfgang Amadeus (1756-1791)
Serenade in D major (K.239) "Serenata notturna"
Bucharest Virtuosi; Horia Andreescu (conductor)
1:15 AM
Mozart, Wolfgang Amadeus (1756-1791)
Symphony No.41 (K.551) in C major, "Jupiter"
Bucharest Virtuosi; Horia Andreescu (conductor)
1:47 AM
Janacek, Leos [1854-1928]
Pohadka for cello and piano
Jonathan Slaatto (cello), Martin Qvist Hansen (piano)
1:58 AM
Durante, Francesco (1684-1755)
Harpsichord Concerto in B flat
Gerald Hambitzer (harpsichord), Concerto Köln
2:08 AM
Tchaikovsky, Pyotr Il'yich (1840-1893)
Dumka - Russian rustic scene for piano (Op.59)
Duncan Gifford (piano)
2:19 AM
Taneyev, Sergey Ivanovich (1856-1915)
Symphony No.4 in C minor (Op.12)
Mariinsky Orchestra, Valery Gergiev (conductor)
3:01 AM
Rameau, Jean-Philippe (composer) [1683-1764]
L'Apothéose de la Danse - orchestral suite of dance music by Rameau
(compiled by Marc Minkowski)
Les Musiciens du Louvre; Marc Minkowski (conductor)
3:39 AM
Schubert, Franz (1797-1828)
Fantasy for piano in C 'Wandererfantasie' (D.760)
Paul Lewis (piano)
4:01 AM
Vivaldi, Antonio (1678-1741)
Concerto for string orchestra in C major (RV.114)
The King's Consort, Robert King (director)
4:07 AM
Bach, Johann Sebastian (1685-1750)
Der Geist hilft unser Schwacheit - motet (BWV.226)
Choir of Latvian Radio, Aivars Kalejas (organ), Sigvards Klava (conductor)
4:15 AM
Puccini, Giacomo (1858-1924)
Intermezzo from Manon Lescaut
BBC Philharmonic, Gianandrea Noseda (conductor)
4:21 AM
Vanhal, Johann Baptist (1739-1813)
Symphony in A minor
Capella Coloniensis, Hans-Martin Linde (conductor)
4:39 AM
Rameau, Jean-Philippe (1683-1764)
Le Rappel des Oiseaux, in E minor, from Pieces de clavecin
Ivetta Irkha
4:42 AM
Andriessen, Hendrik (1892-1981)
Qui habitat
Netherlands Chamber Choir; Uwe Gronostay (director)
4:51 AM
Berlioz, Hector (1803-1869)
Overture from Béatrice et Bénédict - opera in 2 acts (Op.27)
Oslo Philharmonic Orchestra, Jukka-Pekka Saraste (conductor)
5:01 AM
Verhulst, Johannes (1816-1891)
Overture in C minor 'Gijsbrecht van Aemstel' (Op.3)
Netherlands Radio Symphony Orchestra, Jac van Steen (conductor)
5:10 AM
Haydn, Joseph [1732-1809]
Trio for keyboard and strings in C major (H.15.27)
Ondine Trio
5:27 AM
Mozart, Wolfgang Amadeus (1756-1791)
Basta vincesti (recit) and "Ah, non lasciami" (aria) (K.486a)
Rosemary Joshua (soprano), Freiburg Barockorchester, René Jacobs (conductor)
5:33 AM
Debussy, Claude [1862-1918]
L'isle joyeuse (1904)
Balázs Fülei (piano)
5:40 AM
Kodaly, Zoltan [1882-1967]
Beautiful Prayer
Hungarian Radio & Television Choir, Ferenc Sapzon (conductor)
5:44 AM
Delius, Frederick (1862-1934) arr. Thomas Beecham
The Walk to the Paradise Garden
BBC Concert Orchestra, Barry Wordsworth (conductor)
5:55 AM
Albéniz, Isaac (1860-1909)
Cuba from Suite espanola No.1 (Op.47 No.8)
Tomaz Rajteric (guitar)
6:01 AM
Schumann, Robert [(1810-1856)]
Adagio and allegro for horn and piano (Op.70) in A flat major
Danjulo Ishizaka (cello), José Gallardo (piano)
6:10 AM
Fodor, Carolus Antonius (1768-1846)
Symphony No.3 in C minor (Op.19)
Netherlands Radio Chamber Orchestra, Anthony Halstead (conductor)
6:39 AM
Schubert, Franz (1797-1828)
Der Pilgrim (D.794 Op.37 No.1)
Christoph Prégardien (tenor), Andreas Staier (fortepiano - after Johann Fritz, Vienna c.1815)
6:44 AM
Chopin, Fryderyk [1810-1849]
Krakowiak - rondo for piano and orchestra (Op.14) in F major
Nelson Goerner , Orchestra of the Eighteenth Century, Frans Brüggen (conductor).
Last on