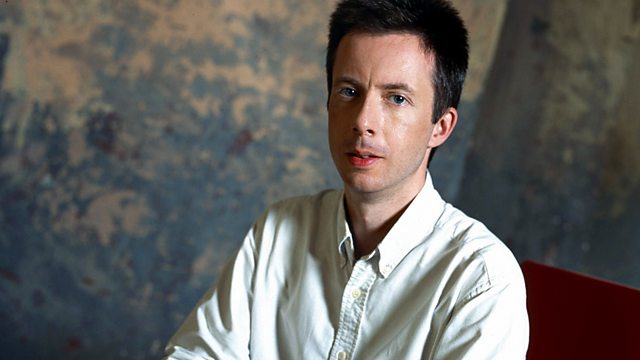 21/09/2011
John Shea presents a concert of chamber music with the French violinist Fanny Clamagirand.
12:31 AM
Saint-Saëns, Camille [1835-1921]
Sonata no. 1 in D minor Op.75 for violin and piano
Fanny Clamagirand (violin), Igor Tchetuev (piano)
12:56 AM
Chausson, Ernest [1855-1899]
Concerto in D major Op.21 for violin, piano and string quartet
Fanny Clamagirand (violin), Igor Tchetuev (piano) Quator Voce (string quartet)
1:39 AM
Sibelius, Jean (1865-1957)
Symphony No.6 in D minor (Op.104)
Netherlands Radio Philharmonic, Bernhard Klee (conductor)
2:09 AM
Grieg, Edvard (1843-1907)
Sonata for piano in E minor (Op.7) ]
Ilkka Paananen (piano)
2:31 AM
Duruflé, Maurice (1902-1986)
Requiem (Op.9)
Jacqueline Fox and Stephen Charlesworth (soloists) BBC Singers, David Goode (organ), Stephen Cleobury (conductor)
3:12 AM
Dittersdorf, Carl von (1739-1799)
Symphony no.3 in G major 'Verwandlung Actaeons in einen Hirsch' (Vienna 1785)
La Stagione Frankfurt, Michael Schneider (director)
3:31 AM
Viotti, Giovanni Battista (1755-1824)
Concerto for violin and orchestra no.22 (G.97) in A minor
Yossif Radionov (violin), Simfonietta Orchestra of Bulgarian National Radio, Stoyan Angelov (conductor)
4:01 AM
Dohnányi, Ernõ (1877-1960)
Symphonic Minutes (Op.36)
West Australian Symphony Orchestra, Jorge Mester (conductor)
4:14 AM
Dimitrov, Ivelin (b.1931-2008)
Songs at the Altar of Time
Evgenia Tasseva (reciter), Ivelina Ivancheva (piano), Polyphonia, Ivelin Dimitrov (conductor)
4:26 AM
Handel, Georg Frideric (1685-1759)
In'den angenehmen Büschen (HWV.209) - No.8 from Deutsche Arien
Hélène Plouffe (violin), Louise Pellerin (oboe), Dom André Laberge (Organ)
4:31 AM
Scriabin, Alexander (1872-1915)
Nocturne for the Left Hand (Op.9 No.2)
Anatol Ugorski (piano)
4:38 AM
Beethoven, Ludwig van (1770-1827)
12 Variations on 'Ein Madchen oder Weibchen' for cello and piano (Op.66)
Miklós Perényi (cello), Deszö Ranki (piano)
4:48 AM
Mozart, Wolfgang Amadeus (1756-1791)
Andante for flute and orchestra in C major (K.315)
Anita Szabo (flute), Hungarian National Philharmonic Orchestra, Zoltán Kocsis (conductor)
4:54 AM
Rachmaninov, Sergey (1873-1943)
Symphonic Dance No.1 (Op.45)
Bergen Philharmonic Orchestra, Andrew Litton (conductor)
5:06 AM
Bach, Carl Philipp Emanuel (1714-1788)
Quartet No.1 in A minor (Wq.93/H.537 - from 3 quartets for Fortepiano, Flute and Viola (1788))
Les Adieux
5:23 AM
Szymanowski, Karol (1882-1937)
Variations on a Polish Folk theme in B minor (Op.10)
Jerzy Godziszewski (piano)
5:44 AM
Goleminov, Marin (1908-2000)
String Quartet No.3 on an Old Bulgarian Theme (1944)
Avramov String Quartet
6:06 AM
Janácek, Leos (1854-1928)
Taras Bulba - rhapsody for orchestra
The Ukrainian Radio Symphony Orchestra, Volodymyr Sirenko (conductor).
Last on