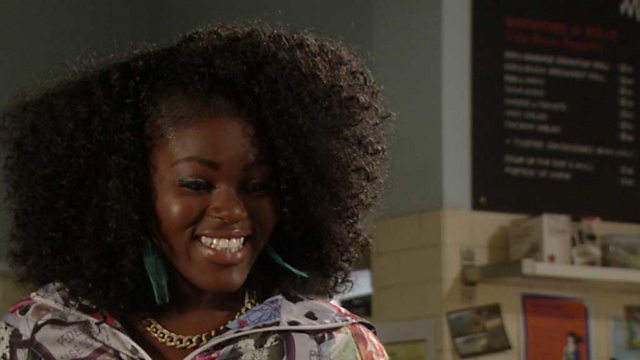 13/09/2011
Carol's confused when she wakes to see Eddie creeping out. Eddie reminds Michael it's the 33rd anniversary of Maggie's death, much to Michael's irritation. Michael calms Tyler's fears about the fight – he'll walk it. Eddie opens up to Carol about Maggie's death, Jack's concerned when Carol reveals they're going away together. Throughout the day, Anthony deliberates about betting on Tyler, Michael's sure he'll be Eddie's favourite if he wins. Under pressure from Michael, Vanessa finds Eddie, claiming she can't stop thinking about him. Eddie's firm - he loves Carol. Seeing Vanessa's humiliated, Eddie gives her a hug. Watching them, Jack worries to Michael who confirms they're together. Later at the fight, Jack's horrified to see Tyler's opponent is Artie Stiller. Realising there's no doctor present, Jack races to fetch Yusef. Encountering Carol, Jack reveals Eddie's with Vanessa. During the fight, everyone's horrified to watch Tyler brutally beaten. Michael's alarmed when Anthony reveals he bet against Tyler. Carol arrives and, seeing Eddie with Vanessa, leaves - heartbroken. Despite Eddie's pleas to stay down, Tyler keeps getting up and eventually lands a punch, knocking Artie out. Amid the celebrations, Anthony tells Eddie that he's lost everything. Tyler tells Whitney he was fighting for her before collapsing on the floor, fitting.
In the café, Fatboy's shocked to recognise Faith Olubumni, Mercy's sister. She presents him with annulment papers and demands his wedding ring. Lauren and Whitney aren't impressed. Grace isn't happy when Faith moves in and bans her from the fight. Faith sneaks out and tries to flirt with Fatboy. Fatboy's disappointed when Whitney brands him a 'mate'.
Ian leaves for Devon when the twins are in an accident. Refusing to let Mandy stay alone, he gives her money for the B&B, not realising she's stolen his house keys.
Last on
Credits
| Role | Contributor |
| --- | --- |
| Eddie Moon | David Essex |
| Tyler Moon | Tony Discipline |
| Anthony Moon | Matt Lapinskas |
| Michael Moon | Steve John Shepherd |
| Carol Jackson | Lindsey Coulson |
| Vanessa Gold | Zoe Lucker |
| Jack Branning | Scott Maslen |
| Whitney Dean | Shona McGarty |
| Lauren Branning | Jacqueline Jossa |
| Arthur 'Fat Boy' Chubb | Ricky Norwood |
| Heather Trott | Cheryl Fergison |
| Jay Mitchell | Jamie Borthwick |
| Ben Mitchell | Joshua Pascoe |
| Ian Beale | Adam Woodyatt |
| Executive Producer | Bryan Kirkwood |
| Director | Clive Arnold |
| Writer | Jeff Povey |
| Mandy Salter | Nicola Stapleton |
| Pat Evans | Pam St Clement |
| Grace Olubunmi | Ellen Thomas |
| Faith Olubunmi | Modupe Adeye |
| Artie Stiller | Maurice Lee |
| Bobby Beale | Alex Francis |
| Cora Cross | Ann Mitchell |
| Dot Branning | June Brown |
| Rose Cotton | Polly Perkins |
| Alfie Moon | Shane Richie |
| Zainab Masood | Nina Wadia |
| Massod Ahmed | Nitin Ganatra |
| Kat Moon | Jessie Wallace |
| Director | Nic Phillips |
| Darren Miller | Charlie G Hawkins |
| Dr Yusef Kahn | Ace Bhatti |
| Writer | Richard Lazarus |
| Syed Masood | Marc Elliott |
| Christian Clarke | John Partridge |