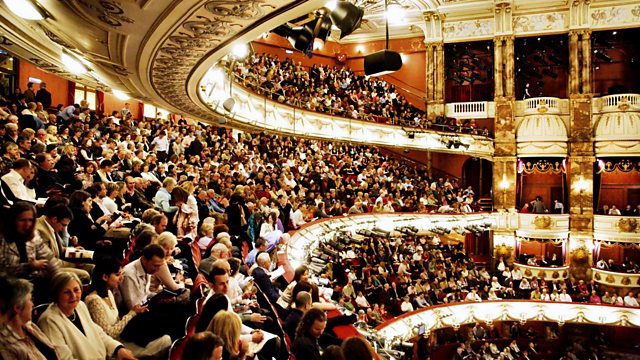 Puccini's Il Trittico
The Royal Opera House season begins with a production of Il Trittico, directed by Richard Jones and broadcast live. Puccini's triple bill comprises three contrasting one act operas encompassing lust, murder, faith, romance and comedy. In Il Tabarro Eva-Maria Westbroek sings Giorgetta whose affair with a deckhand provokes her husband to murder. Then we move to the world of a convent where Suor Angelica sung by Ermonela Jaho has been banished for having an illegitimate child. Both these are new productions. Finally a revival of Richard Jones' production of the farcical comedy where Gianni Schicchi, sung by Lucio Gallo, tricks a grasping family out of its inheritance.
Donald Macleod presents and is joined by Italian opera scholar, Roger Parker. Plus an interview with Elaine Padmore, the outgoing Director of Opera at the Royal Opera House.
Il Tabarro
Michele.....Lucio Gallo (Baritone)
Luigi..... Aleksandrs Antonenko (Tenor)
Tinca..... Alan Oke (Tenor)
Talpa..... Jeremy White (Bass)
Giorgetta.....Eva-Maria Westbroek (Soprano)
Venditore.....Ji-Min Park (Tenor)
Frugola..... Irina Mishura (Mezzo-soprano)
Suor Angelica
Suor Angelica..... Ermonela Jaho (Soprano)
La Zia Principessa.....Anna Larsson (Mezzo-soprano)
La Suora Zelatrice.....Elena Zilio (Mezzo-soprano)
Maestra Delle Novizie.....Elizabeth Sikora (Mezzo-soprano)
Suor Genoveva.....Anna Devin (Soprano)
Nursing Sister.....Elizabeth Woollett (Soprano)
Le Cercatrici ...Gillian Webster (Soprano)
Giannia Schicchi
Gianni Schicchi...Lucio Gallo (Baritone)
Lauretta... Anna Devin (soprano)
Zita...Elena Zilio (Mezzo-soprano)
Gherardo...Alan Oke (Tenor)
Nella... Lisa-Anne Robinson (soprano)
Betto di Signa... Jeremy White (Bass)
Simone...Gwynne Howell (Bass)
Marco...Robert Poulton (Baritone)
La Ciesca...Marie Mclaughlin (Soprano)
Spinelloccio...Henry Waddington (Bass)
Pinellino... Daniel Grice (baritone)
Guccio... John Molloy (bass)
Royal Opera House Orchestra
Royal Opera House Chorus
Conductor ..... Antonio Pappano.
Last on