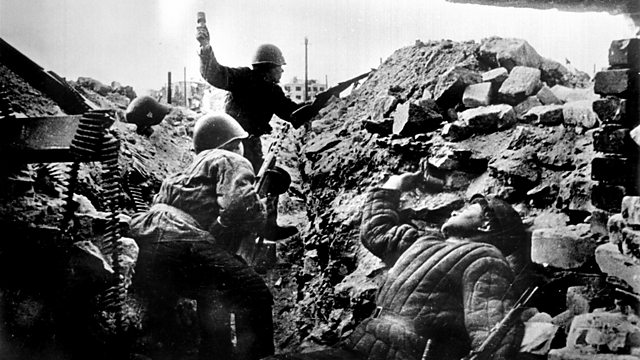 Elliot Levey reads the second of Vasily Grossman's front line despatches from the battle of Stalingrad. The Stalingrad Army. Red Star -January 13th 1943. Translated by Jim Riordan.
'How can I convey my feelings at this moment in the dark basement which hadn't surrendered the factory to the enemy?'
As the 'special correspondent' for Red Star newspaper Vasily Grossman conveyed the 'ruthless truth of war' from the first disastrous weeks of the Nazi invasion in 1941 to victory in the ruins of Berlin. His intimate portraits of baby faced snipers, taciturn machine gunners and enthusiastic 'tankists' brought home the struggle to both the Soviet people and a wider world. Never more so than during the terrible battle for Stalingrad between July 1942 to February 1943.
The whole world was transfixed by a struggle that might determine the course of the war as Hitler's Sixth Army found the early success of late summer turning into disastrous defeat in the icy winter amidst the rubble. Throughout these months of terrible battle Grossman endured countless dangers to cross the river Volga and enter the ruined city. There he would listen & gather material for his detailed portraits for Red Star, stories from those who would most likely die in this pitiless 'war of the rats'. A war in which every cellar and every building became a front line. By January 1943 the desperate defence of the city had shifted as the surviving soldiers of the Red Army sensed a priceless victory. 2: The Stalingrad Army.
Reader: Elliot Levey
Translator: Jim Riordan
Producer: Mark Burman.
Last on