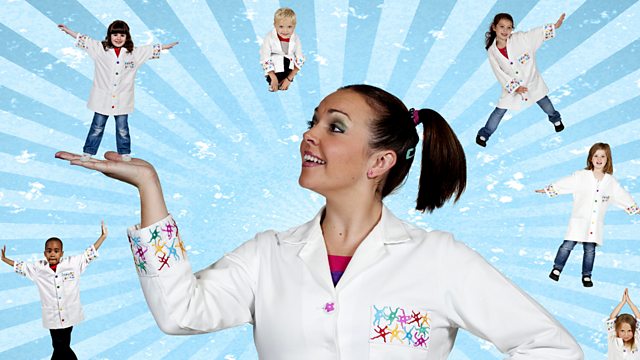 Nina investigates why some things make people sneeze, with the help of Ollie, her smell neuron.
Experimenters Mika, Molly and Ryan visit Nina in her lab and find out that people sometimes sneeze when something irritates or tickles their nose, like a strong smell or a tickly feather. They go to a racetrack and discover that sneezes can travel as fast as a racing car - a super-speedy 100 miles per hour! They learn why it is important to cover your nose when you sneeze - it can blast out nasty germs that can make other people ill.
Back at the lab, they do an experiment with air canons and work out that a nose sneezes to get rid of the thing that's tickling it. Nina explains that this is a reflex action - something the body does all by itself, without thinking about it.
Last on
Credits
| Role | Contributor |
| --- | --- |
| Nina | Katrina Bryan |
| Belle | Kelly Harrison |
| Felix | Lewis Macleod |
| Luke | Patrice Naiambana |
| Ollie | Siobhan Redmond |
| Bud | Sharon Small |
| Director | Michael Prince |
| Series Producer | Ciaran Cruickshank |
| Writer | David Bishop |