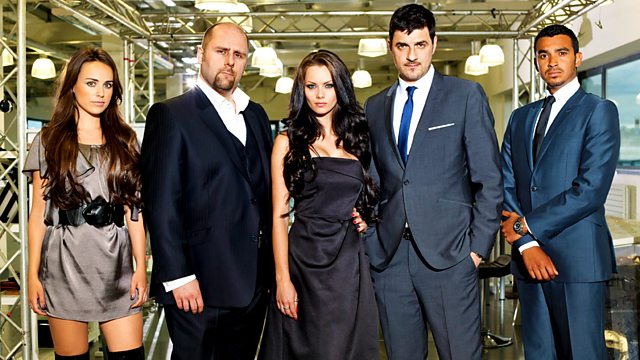 Hustlers Jess Clement, Alexis Conran and Paul Wilson have recruited two new faces to help them expose cons and crimes that catch the public out on a daily basis. Novice hustlers Polly Parsons and Jazz Lintott have to learn the art of deception in record time, as they join the original trio and help them carry out the most devious scams to date.
Pop Idol finalist Gareth Gates must overcome his speech difficulties to play the role of a stock market trader. Along with the hustlers he must persuade a victim that she's dealing with a legitimate financial company claiming to have advance information about share prices. Can they persuade the mark to invest in their bogus business?
Polly and Jazz join up to con a businessman out of his possessions. Whilst the mark does a good deed for the damsel in distress, his laptop disappears from right under his nose.
Last on
Credits
| Role | Contributor |
| --- | --- |
| Presenter | Alexis Conran |
| Presenter | Alexis Conran |
| Presenter | Paul Wilson |
| Presenter | Paul Wilson |
| Presenter | Jessica-Jane Clement |
| Presenter | Jessica-Jane Clement |
| Presenter | Polly Parsons |
| Presenter | Polly Parsons |
| Presenter | Jazz Lintott |
| Presenter | Jazz Lintott |
| Narrator | Tom Oldham |
| Narrator | Tom Oldham |
| Executive Producer | Matt Crook |
| Executive Producer | Matt Crook |
| Executive Producer | Andrew Newman |
| Executive Producer | Andrew Newman |
| Executive Producer | Anthony Owen |
| Executive Producer | Anthony Owen |
| Series Producer | Martin Turner |
| Series Producer | Martin Turner |