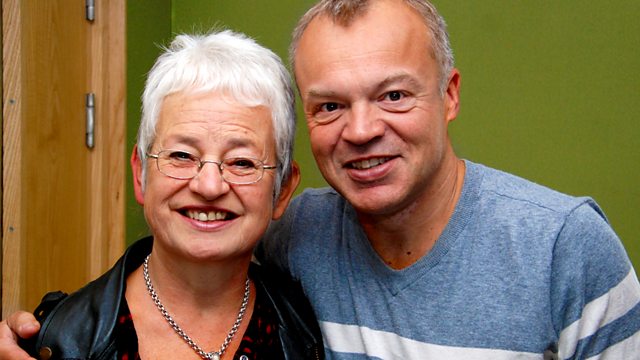 Dame Jacqueline Wilson & Fiona Shaw - books & opera
Graham's first guest this week was former Children's Laureate, and Tracy Beaker creator Dame Jacqueline Wilson, who talked about her new book, 'Sapphire Battersea', the second in a trilogy about the character Hetty Feather. Dame Jacqueline also revealed her love of sexy shoes, how she was the inspiration for 'Jackie' magazine which started in the 1960s, and how an exhibition in Newcastle is to based around her life and books.
Fiona Shaw also popped in to talk about directing Mozart's 'The Marriage Of Figaro' at the English National Opera, what it's like working in Hollywood filming 'True Blood' in graveyards late at night, and the time she appeared in such films as 'Super Mario Bros.' and 'Three Men and a Little Lady'.
'I Can't Believe It's Not Better' was chosen by Sarah from High Wycombe, the song, a 1976 No. 1, was 'Combine Harvester (Brand New Key) by The Wurzels, a group Sarah openly admitted to loving as a child.
After Maria had divulged the details of an disastrous blind date, in this week's Grill Grahams, Teri in Chippenham was seeking advice on how to deal with her 19 year old daughter's flirtatious ways. Apparently she's had no less than 4 boyfriends this summer, and is gaining quite a reputation. And then there was Justine in Liverpool, whose mother has suddenly taken a dislike to her son-in-law, and seemed to be actively encouraging her daughter to find a new man, leaving poor Justine stuck in the middle. Norton & McErlane to the rescue - ish!
And in 'Tune With A Tale', Steve Emms from Evesham chose the Angela Kaset penned 'Something In Red' sung by our very own Elaine Paige, which according to Steve tells a woman's life story through shopping.
Last on