Meg Rosoff talks to Mariella Frostrup about her book 'There is no Dog', which imagines what the world would be like if God was a petulant teenage boy called Bob.
Read the Opening Chapter of There Is No Dog by Meg Rosoff

Chapter 1: There Is No Dog by Meg Rosoff

Get ahead with Mariella's next book Nightwoods by Charles Frazier

Find Chapter 1 of Nightwoods by Charles Frazier

BOOKLIST

MEG ROSOFF

There Is No Dog - Meg Rosoff
Publisher: Penguin Books

How I Live Now - Meg Rosoff
Publisher: Puffin

CHRISTOPHER HOPE

Shooting Angels - Christopher Hope
Publisher: Atlantic Books

OTHER TITLES

Cry, the Beloved Country: A Story of Comfort in Desolation - Alan Paton
Publisher: Vintage Classics

Disgrace - J.M. Coetzee
Publisher: Vintage

Dry White Season - Andre Brink
Publisher: Vintage

Welcome to Our Hillbrow: A Novel of Postapartheid South Africa - Phaswane Mpe
Publisher: Ohio University Press

The Heart of Redness - Zakes Mda
Publisher: Picador USA

Triomf - Marlene van Niekerk
Publisher: Abacus

Please let us know your thoughts and tips for literary apps. Which ones are your must haves and why; what content would you like to see becoming available; which books would you like to have an app for; and are literary apps value for money?

Apps mentioned on the programme:
Cat in the Hat, The Elements, The Solar System, Gems and Jewels, Alice in Wonderland, The Wasteland, Birds of Europe, Angry Birds.
More from Books at the BBC
Sample our books and authors Clip Collection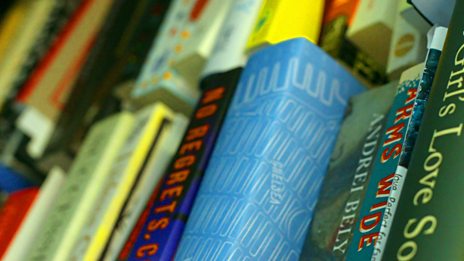 Interviews, previews and reviews
Podcast
This podcast features Open Book and A Good Read. In Open Book, Mariella Frostrup talks to leading…