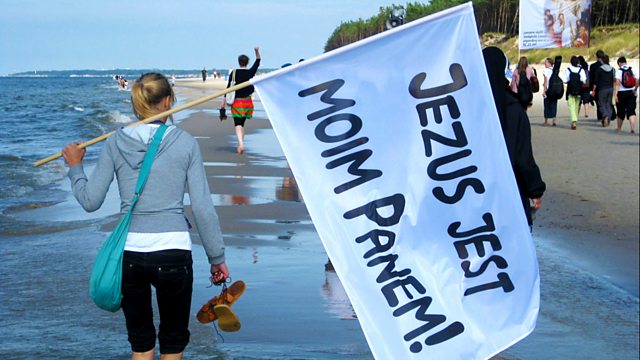 Poland's Catholic "Beggars"
Listen in pop-out player
Lucy Ash travels across Europe to meet the continent's next generation, as they face a future where the recent certainties - the Euro, comfortable growth, ever closer union - have been brought into question. She explores the challenges they face and the innovative ways they are meeting them.
Programme 5: Poland's Young Beggars
Poland is the only nation in Europe that did not enter recession during the global financial crisis. The country is booming, construction is on the rise and families are buying more cars and household goods. An increasing number of Poles are returning to their homeland from Britain, cashed up after earning wages in a stronger currency and demanding the latest in Western food and fashion.
Yet at the same time, a group of young Polish Catholics spent this summer turning their backs on the material world. Lucy joins a group of young men and women trekking along the beaches of the Baltic sea with no money in their pockets. They tell her they have no idea about when they would next eat nor where they would spend the night. Every evening when they arrive in a town or village, they hold a mass and then ask local people to put them up. What drives them and how representative are they of Polish youth today?
Producer: Arlene Gregorius.
Last on
More episodes
Next
You are at the last episode
Lucy Ash is in Poland with the young people going underground - in mines and in business.