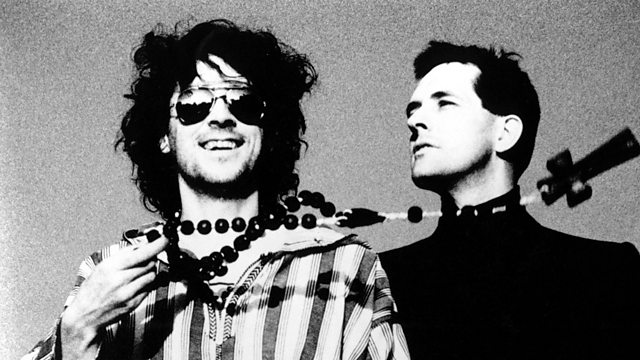 4/4
The White Room - The KLF
'The White Room' by The KLF has turned 20, so join Davie Scott as he unravels one of Scotland's most fascinating pop anecdotes. Bill Drummond - son of a Church of Scotland minister - was almost 40 years old when he decided to create a 'Stadium House' band. He wanted to unite music fans with "gigantic anthems". A former top music exec, he understood pop music hype and hyperbole and used that to his advantage. While some might have judged he and partner Jimmy Cauty as over-the-hill, Bill's marketing know-how pushed The KLF to become the bestselling singles act in the world in 1991. 'Justified and Ancient' (featuring Tammy Wynette) was inescapable. It was No.1 in 18 countries and provided her highest-ever Billboard placing. 'What Time is Love' provided the first taste of The KLF's big commercial sound and was soon answered by the number 1 single '3am Eternal'.
And it wasn't just the fans who loved them. The music press couldn't get enough of their contrary ways, one journalist enthusing that "as providers of perverse, throwaway, three-minute pop-song manna... (they're) punk rock, the Renaissance, Andy Warhol and Jesus Christ all rolled into one."
The gigantic commercial success of the band flew in the face of taste-making rhetoric, and Bill and Jimmy caused further alarm when - at the height of their success - they gave a "violently antagonistic performance" at the 1992 Brit Awards and left the stage to a tannoy announcement stating that "The KLF have now left the music business". Job done!
Last on
More episodes
Next
You are at the last episode