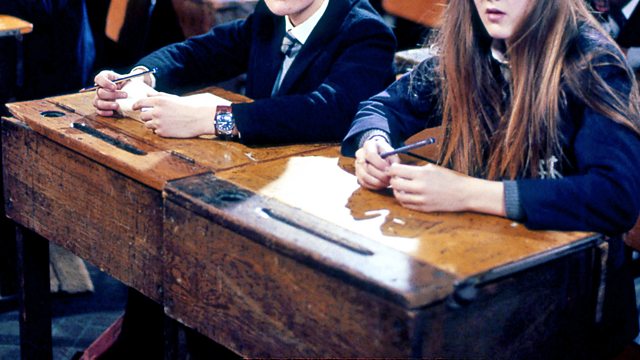 Comp Lit
A children's book using the word "Paki". An angry Daily Telegraph editorial about teen fiction. A new group of writers and teachers grappling with the difficult lives of new young readers. 'Comp Lit.' may not have been a literary genre. But it had widespread repercussions
Nick Baker revisits a period in children's literature, the 1970s, when stories with gritty true life settings sent the boarding school story packing, at least until the arrival of Harry Potter. A new era of fiction set in state schools, aimed at a diverse new readership, hungry for stories about their lives, rather than the idealised lives of middle class children.
Nick traces the arrival of stories for and about 'ordinary' boys and girls of all ages, talking to writers Robert Leeson, Bernard Ashley, Gene Kemp, Farrukh Dhondy and Jan Needle about a time when the politics of class and the classroom, of race and gender, came together in fiction.
By the 1970s, books like The Trouble with Donovan Croft by Bernard Ashley, The Turbulent Term of Tyke Tiler by Gene Kemp and Come To Mecca by Farrukh Dhondy were depicting real life in Britain. Authors were often teachers, keen to capture the imaginations of reluctant readers with stories they'd relate to. The stories were instantly popular. They inspired the hit TV drama Grange Hill..
What kids should and did read became a hot topic. The new books told stories charged with the language and behaviour found in schools the readers went to. Fostering, working mums, benefits, multiracial friendships and racist bullying were all grist to the mill. Did they sacrifice fantasy for social realism? Should the politics of class race and gender be kept out of the children's books? Nick examines the legacy of Comp Lit.
Producer: Tamsin Hughes
A Testbed production for BBC Radio 4.