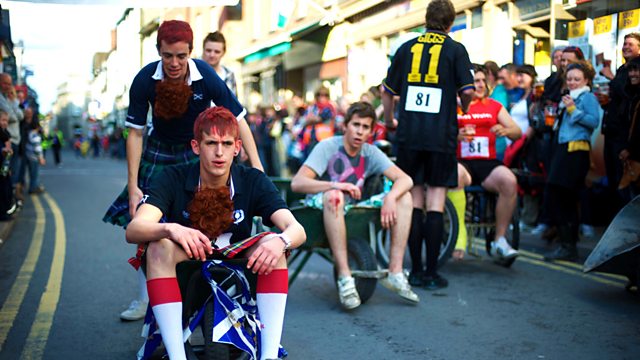 by Sebastian Baczkiewicz
Trudy's arrival in Kington has caused quite a stir. The young American, with her dyed neon hair, looks more like a visiting rock star than an inhabitant of the Herefordshire market town. Trudy claims that she's researching local history, but her story doesn't add up. When she starts surreptitiously following the town's street cleaner, questions are asked about the real reason for her visit.
Man in a Wheelbarrow is one of two plays that form the community project The Marches (continuing with Fearless Librarian Saves the Day tomorrow). The community of Kington was involved with the creative process behind this original Afternoon Play. A film accompanying the radio play can be watched via the Radio 4 website.
Cast:
Trudy . . . Sasha Pick
Duggie . . . Richard Elfyn
Leon . . . Stuart McLoughlin
Molly . . . Jane Whittenshaw
Mal . . . Sam Jones
Director/Producer Sasha Yevtushenko
Over the past year, BBC Radio Drama has worked in partnership with the Rural Media Company and the Herefordshire communities of Kington and Ewyas Harold to create The Marches - a highly innovative project that combines the mediums of radio and film with community participation.
The project gave each community the opportunity to be part of the creative process behind two original Afternoon Plays as well as two accompanying films. Over 150 people aged from 7 to 85 from rural Herefordshire have taken part in the project over the past twelve months. The Marches captures the sounds and images of contemporary rural life, together with the voices, lives, stories and histories of the rural border regions of England and Wales.
Rural Media undertook the research and community development to help create the radio plays. The communities shared local stories and their experiences of the towns with award-winning writer Sebastian Baczkiewicz, who in turn used these accounts as inspiration for two original Afternoon Plays for Radio 4.
In January 2011, BBC Radio Drama recorded the two radio plays in Kington (Man in a Wheelbarrow) and Ewyas Harold (Fearless Librarian Saves The Day) with a cast of professional actors, and with additional roles played by some members of the community.
In June 2011, the Rural Media Company shot two films that accompany the plays. These films enrich the imagery and story-telling of the radio plays, and were created with the participation of the local communities.
The film that accompanies Man In A Wheelbarrow was directed by John Humphreys. It is a lovingly crafted visual exploration of Kington and the locations, places and events of the play. It features the Kington Festival's famous Wheelbarrow Race as well as stories, ideas and themes gathered from across the market town.
Last on
More episodes
Previous
You are at the first episode