School transport cuts

It's back to school for children this week. But for some pupils and their families in rural East Sussex, travelling to school is going to prove far trickier than last term. Children in one village have seen their discretionary transport to school axed by their county council which is faced with budget cuts. Instead of the school bus they caught last term, they now face a two-and-a-half mile walk to school on a road they say is too dangerous. Lewes District Council Councillor Sarah Osborne says that this case is only one of many across the country. This week she has sent an open letter, signed by a coalition of groups including children's charities, teaching unions and poverty campaigners, to Education Secretary Michael Gove asking him to change the guidelines on what constitutes a safe route. She joins Jane in the studio with Shona Johnstone, Deputy Chair of the Local Government Association's Transport and Economy Board.

Urban Foraging with Alys Fowler

The appetite for foraging food from the wild has never been stronger. But gardener and author Alys Fowler says you don't have to necessarily go out into the rolling fields to find your dinner. City dwellers can also find plenty of delicious things to eat alongside canals, city streets and even in your local car park. Jane joins Alys on a forage along the not exactly bucolic Regent's Canal in central London to find out more.

Alys Fowler's The Thrifty Forager: Living off your Local Landscape is published by Kyle Books on 8th September 2011. Photograph from the book, taken by Simon Wheeler.

Ayanna Witter-Johnson

Ayanna Witter-Johnson is a classically trained pianist, composer, jazz vocalist and cellist who graduated from Trinity College of Music and spent two years studying for a Masters degree at Manhattan School of Music. While in the US she won the legendary Amateur Night at the Apollo – the first non-American to win the prestigious prize. She is about to release an album, 'Truthfully' and she will be performing live for us in the studio.

Ayanna Witter-Johnson

School Wars

The new school year is getting underway, and there have been a number of changes to the educational landscape - not least the new free schools, a number of which are opening their doors for the first time this week. The writer and educational campaigner, Melissa Benn, has a new book out, 'School Wars – the Battle for Britain's Education.' Jane will be joined by Melissa and by Anne McElvoy, Public Policy Editor for the Economist, to discuss the current state of education and how schooling may develop in future years.

'School Wars - The Battle for Britain's Education' was published by Verso this week.
Woman's Hour Power List 2014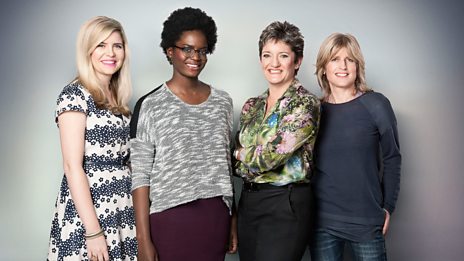 Identifying the top ten game changers operating in the UK today.
Free downloads
Discover cooking techniques and tips to help you perfect your cooking know-how. Jenni Murray and…

Which ten women in the UK have done most to game-change the way power operates in the UK, whether in…

Woman's Hour brings you the big celebrity names and leading women in the news, with subjects ranging…