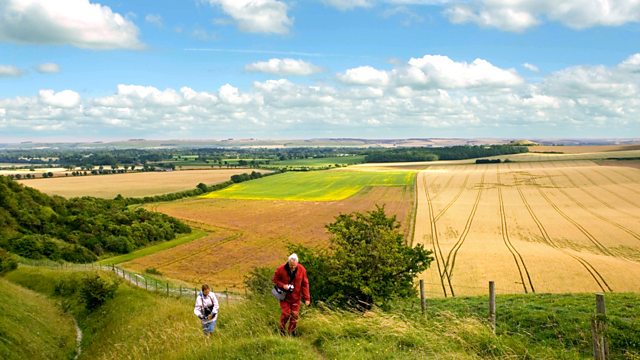 The Devil's Beeftub
Listen in pop-out player
17th Century Scotland was a troubled time. Immortalised by Sir Walter Scott the cavernous 'Devil's Beeftub' and the spectacular 'Grey Mare's Tail' waterfall became hiding places for Border Reivers and Covenanters as the countryside became a battleground for clans and religious factions.
Alistair Moffat has written about the infamous Reivers. They hid the cattle they stole from either side of the border in the 'Beeftub' as it provided a perfect vantage point to see any approaching armies. Theirs was a lawless time and knowledge of the landscape was vital for survival. Today the landscape is being carefully restored to a time before intensive cattle and sheep grazing had created the open vistas we see today. The Borders Forest Trust are attempting to plant thousands of native trees and work with farmers like Jim Mitchell to integrate todays community with conservation for the future.
Just down the road is the 'Grey Mare's Tail', one of the highest waterfalls in Scotland. Today it is home to feral goats and rare plantlife but in the 17th century it provided a hiding place for the Covenanters, those who objected to the interference of the Stuart Kings in the affairs of the Presbyterian Church. The National Trust now own the site and as well as the human history and wildlife the area also features some extremely old fossils.
Last on