The Great British Bake Off
Twelve homebakers take part in a 'bake off', which will test every aspect of their baking skills as they battle it out to be crowned the Great British Bake Off's Best Amateur Baker.
iWonder explores how to hit that sweet spot, sugar free.

Catch up on the social media highlights of week four's dessert challenge.

Find recipes for Mary's and the bakers desserts on the BBC Food website.
Make showstopping bakes with BBC Food and iWonder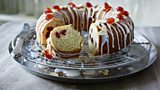 Fancy baking your own showstopper? Find recipes from the show on BBC Food.

More from the fab four!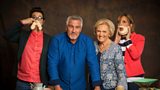 Master bakers Mary & Paul and the incomparable presenting duo of Mel & Sue are back for the sixth series of The Great British Bake Off.