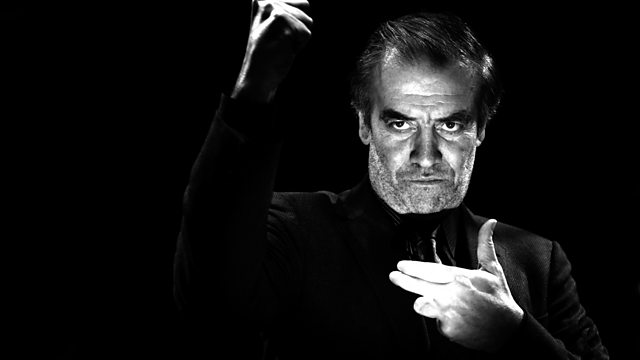 Prom 53 - Prokofiev, Dutilleux
With Jonathan Swain
Proms Repeat: Valery Gergiev and his London Symphony Orchestra feature pairings of works by Prokofiev and Dutilleux. Prokofiev is represented by two very contrasted symphonies, the 1st and the 5th, and Dutilleux by a fanfare that he composed for Rostropovich to conduct and a concerto that he wrote for the great American violinist Isaac Stern to play.
Gergiev always has something special to say about Prokofiev and the very different worlds of the Haydn-inspired 1st Symphony (the 'Classical') and the wartime 5th (written in a single month in 1944) are bound to bring out the best in him. Orchestra and conductor are joined by the virtuoso Greek violinist Leonidas Kavakos for Dutilleux's nocturnal concerto, whose title translates as 'The Tree of Dreams'. Dutilleux celebrated his 95th birthday earlier this year and his music celebrates what he calls 'the joy of sound'. That joy is certainly apparent in the short fanfare that he composed for Mstislav Rostropovich's 70th birthday, whose spatial arrangement of instruments should suit the Royal Albert Hall perfectly.
Presented by Suzy Klein
Prokofiev: Symphony No. 1 in D major, "Classical"
Henri Dutilleux: L'arbre des songes
Henri Dutilleux: Slava's Fanfare
Prokofiev: Symphony No. 5 in B flat major
Leonidas Kavakos (violin)
London Symphony Orchestra
Valery Gergiev (conductor).
Last on