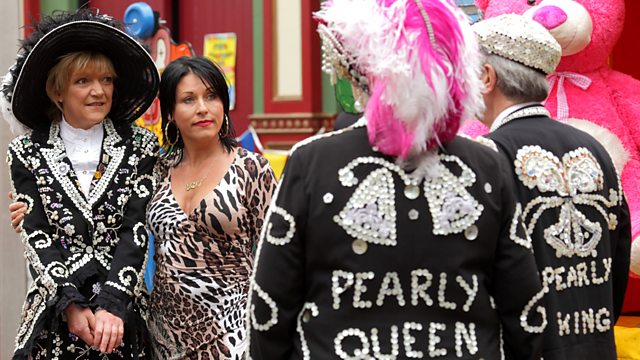 19/08/2011
Upset that Norman chose Pat to be Pearly Queen, Jean despairs she'll never find love. Pat worries that people will laugh at her authentic outfit. When Alfie gets Jean her own Pearly Queen outfit, Pat's outraged – Norman chose her, not Jean - and storms off home. Feeling down, Pat and Dot drink brandy and reminisce. Jean's attempts to charm Norman fall on deaf ears as he worries about Pat. Dot thinks Pat's kidding herself if she doesn't care Jean is Norman's queen.
Ryan's irritated when Whitney blanks him and Kat refuses to give him his last wages. Ryan tries to break up with Lauren for Whitney's sake; she insists they can see each other secretly. Whitney goes bowling with Lee, they share a kiss. When Whitney refuses to speak to Lauren, Lauren accuses her of making everything about her. Lee receives a text from Whitney agreeing to meet. Smiling, he passes the phone to someone - it's Rob.
Ian's admits to Rebecca that he's not a widower and confesses how much he likes her, but inadvertently reveals he's been seeing the other mums. Disgusted, Rebecca storms out.
Vanessa attempts to flirt with Eddie at the fete, he's flattered. Eddie steps in when Anthony and Tyler argue over the outcome of the fete tug of war.
Pat makes Dot a doctor's appointment when she reveals she has constant headaches. Melancholy Dot worries she'll die without doing everything she wanted, including making peace with someone. Pat encourages her to write a 'to do' list.
Syed attempts to discuss wedding plans with Zainab. She refuses and won't take part in the three-legged race with Christian at the fete. Stressed, she takes one of her pills.
Tanya has an appointment to discuss her test results and is devastated by the outcome.
Last on
Credits
| Role | Contributor |
| --- | --- |
| Rob Grayson | Jody Latham |
| Lee | Mitchell Hunt |
| Whitney Dean | Shona McGarty |
| Lauren Branning | Jacqueline Jossa |
| Ryan Malloy | Neil McDermott |
| Tanya Jessop | Jo Joyner |
| Pat Evans | Pam St Clement |
| Norman Simmonds | George Layton |
| Kat Moon | Jessie Wallace |
| Alfie Moon | Shane Richie |
| Executive Producer | Bryan Kirkwood |
| Director | Karl Neilson |
| Writer | Daran Little |
| Jean Slater | Gillian Wright |
| Mo Harris | Laila Morse |
| Carol Jackson | Lindsey Coulson |
| Dot Branning | June Brown |
| Eddie Moon | David Essex |
| Tyler Moon | Tony Discipline |
| Anthony Moon | Matt Lapinskas |
| Christian Clarke | John Partridge |
| Syed Masood | Marc Elliott |
| Zainab Masood | Nina Wadia |
| Ian Beale | Adam Woodyatt |
| Patrick Trueman | Rudolph Walker |
| Vanessa Gold | Zoe Lucker |
| Liam Butcher | James Forde |
| Tiffany Butcher | Maisie Smith |
| Shenice Quinn | Lily Harvey |
| Rebecca | Louise Breckon-Richards |
| Nurse Roger | Daniel Curtis |