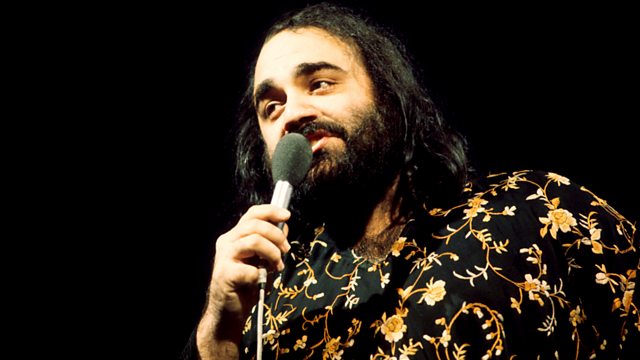 Anyone for Demis? How the World Invaded the Charts
The British have a love-hate relationship with the foreign pop song. For years they were frequent visitors to the charts and were bought in their millions. Once heard never forgotten, these international hits conjure instant memories of a holiday abroad, musical portraits of countries far away.
This documentary tells the story of these musical imports from the Second World War to the present day. It reveals surprising stories behind some of the songs and asks what made them so popular.
The programme starts with the fad for Hawaiian music in wartime Britain. Dodging the bombs was Felix Mendelssohn and his Hawaiian Serenaders. Hula dancer Doreena Sugundo, who joined the band aged seventeen, remembers their exotic stage act and the intricacies of the homemade grass skirt.
In the 1950s the foreign pop song was a fixture in the newly-formed charts. From Anton Karas's zither music to the Obernkirchen Children's Choir, continental pop sold in its millions. On BBC television, calypsos from Harry Belafonte and Cy Grant were family favourites, while Danish aristocrats Nina and Frederik brought a certain cosmopolitan cool with their versions of international folk music.
One would think that the worldwide success of the Beatles would see off these foreign pretenders. Not so, as in their breakthrough year of 1963 they were challenged in the charts by the Singing Nun's song Dominique. But the Singing Nun's subsequent fall from grace rivals any rock and roll tragedy.
People travelled the world through their record collections and on the new BBC2 Nana Mouskouri brought an early version of world music to our homes. In the late 1960s the package holiday boom meant that ordinary Britons could visit the places they'd only dreamt of seeing. Holiday songs like Sylvia's Y Viva Espana were souvenirs of a week in the sun and Greek balladeer Demis Roussos became the 1970s' most unlikely sex symbol.
Since then there has been the fad for pan pipes, initially coming not from the Andes but Romania, and in the 1980s the success of Paul Simon's Graceland and the emergence of world music. As our holidays became more exotic and our tastes for food more international, so music from around the world has become more dominant, with the craze for Latin and salsa music.
So now when music is truly global, and international stars like Shakira bestride the music world, has the foreign pop song had its day? Will there ever been another foreign pop sensation like the Singing Nun or the pan pipes, and is there anyone for Demis?
Featuring interviews with Nana Mouskouri, Sylvia, Ladysmith Black Mambazo and the Gipsy Kings. Narrated by Liza Tarbuck.