Add music you love and enjoy it with
My Girl (Original 1992 Film S/Track), Epic

More Monty (Various Artists), Rca Victor

Blur

Girls And Boys

Now 28 (Various Artists), Now

Asia

Heat Of The Moment

Various Artists - New Frontiers, Temple Records

Bruce Springsteen

I'm On Fire

Bruce Springsteen - Born In The USA, CBS

England The Album (Various Artists), Virgin

Ashes & Fire, Columbia, 1

Neil Young

and

Crazy Horse

Cinnamon Girl

Greatest Hits, Reprise, 1

Need You Now, Capitol Nashville, 1
Confession: "Hands Off She's Mine"

Simon and team I write to ask forgiveness for something that happened some time ago but I often think about and would like to ease my conscience.

When I was an air stewardess a few years ago I was on the duty free trolley when I felt a hand stroke on the outside of my thigh. It's the uniform that does it!

I looked to my right, as it was the right thigh that had been stroked. The gentleman sitting on the aisle seat looked up at me and smiled. I gave him a look, you know the type women are good at giving when you have annoyed them.

I continued working and a few minutes later it happened again, this time on my upper thigh. Flabbergasted that he hadn't learnt from his mistake, I turned and again faced the smiley face that looked up at me. I glared again but this time added a big sigh and a huff and puff. That will show him I thought. A few minutes later having got back to the job in hand, I felt my leg being stroked again! That's it. He'd gone too far. I turned again to the gentleman who was still smiling and then spoke to his wife, sitting one seat in from him. "Excuse me Madam but I wonder if you could please ask your husband to keep his hands to himself". "What!" she screeched. I politely and calmly said that I would prefer my thigh not to be stroked by her husband.

She thumped her husband and screeched something along the lines of his
being a dirty old man and should know better. She apologised to me for his behaviour and I smiled and thanked her. Meantime the gentleman, now somewhat battered and embarrassed, sank into his seat in shame. He wasn't smiling anymore. Given the volume of the screeching it would have been hard not to have heard what had happened. A few whispers were heard up and down the cabin.

"Did you hear that, a passenger just stroked one of the cabin attendant's legs" Oh", "Ah", "Well!" 'How disgusting!" and so on. I returned to my task and then heard a concerned voice calling "Mandy,|Mandy" I looked around and could not work out where the voice came from, until I bent down and looked through the shelf of the trolley on which I was working and saw Robert the steward working on the other end of the trolley. "Mandy, it was me!" he said.

My heart stopped, my face reddened.Embarrassed, shocked, disappointed and feeling very guilty I pretended to busy myself with finding something on the trolley shelf. I could not get through the cabin quickly enough. Fortunately the flight didn't last too much longer. I continued to busy myself with the various tasks in hand, almost running past the seat where the poor gentleman continued to nurse his bruises.

When the passengers were disembarking at the final destination the wife smiled as she passed me, saying " I am so sorry". I smiled and said "No please don't worry I am sure it was a mistake, no need to be sorry, I am sorry too. Have a nice holiday".

I often wonder about that poor gentleman and if he had a good holiday. I wonder how long the bruises lasted for and whether I had caused any long term ill effects or psychological problems every time he boarded an aircraft.

Now I come to you and ask that you consider giving me peace of mind by granting forgiveness.

Mandy

Pomegranate, Blueberry & Acai Superfruit Chicken

by Gurpareet Baines from Indian Superfood (Absolute Press)

Serves 4

Prep time: 15 mins

Cooking time: Less than 30 mins



Ingredients

2 tbsps olive oil

1 tsp cloves

½ tsp each fenugreek seeds & nigella seeds

2 garlic cloves, finely chopped

3 tbsps grated (peeled) fresh root ginger

1 tsp turmeric

2-6 green chillies, chopped (Nigel used 3 & it was still pretty hot)

¾ tsp salt, or to taste

2 tbsps tomato puree

300ml pomegranate, blueberry & acai smoothie (by Innocent)

500g skinless, boneless chicken breasts, cut into bite-size pieces



A handful of pomegranate seeds & chopped fresh coriander, to garnish.



Method

Pour the olive oil into a deep saucepan, add the cloves & fenugreek & nigella sees & cook over a high heat until the seeds start to sizzle – this should take no more than 1-2 mins.
Remove the pan from the heat & allow the oil to cool for a moment or two.
Add the garlic & ginger to the pan & cook over a low-medium heat until they are a golden brown colour, stirring frequently – this should take no more than 2-3 mins. (If the garlic & ginger stick to the pan, add a few drops of cold water).
Add the turmeric, mix well & cook for about 20 secs.
Now add the chillies, salt, tomato puree & fruit smoothie.
Mix well & bring to a rapid simmer.
Add the chicken to the pan, mix well & bring to a gentle simmer.
Cook uncovered for 10 mins or until the chicken is cooked & tender, stirring occasionally.
Garnish with the pomegranate seeds & chopped coriander.
Serve with your choice of sides.


If you cannot find the Innocent Pomegranate, Blueberry & Acai superfruit smoothie, a smoothie containing any one of the mentioned fruits will suffice, so long as it's thick & sweet.

Nigel's Top Tip

If garlic & ginger stick to the pan, add a few drops of cold water.
Watch Simon's Edinburgh Book Club Special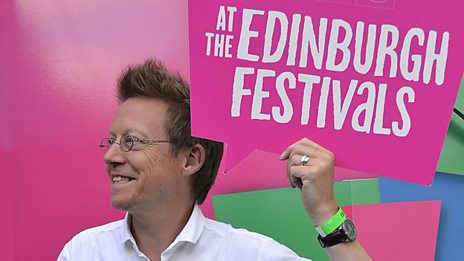 See Simon host a special Radio 2 Book Club live at Potterrow.
Podcasts
Simon Mayo considers listeners' darkest secrets and worst misdemeanours, as they beg for his…

The best bits of Simon Mayo Drivetime on BBC Radio 2, with star guests, audience interactivity,…