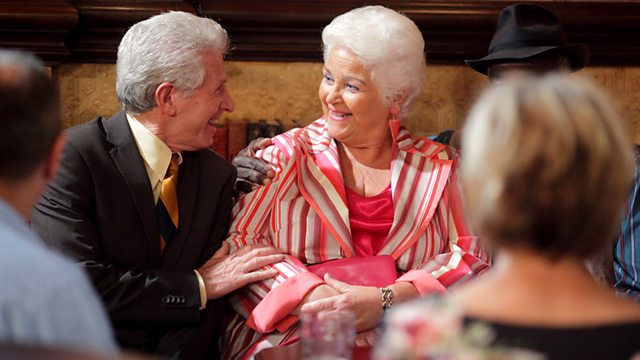 11/08/2011
Greg's bought a car for Lauren. He excitedly packs, preparing for his holiday with Tanya. Vanessa panics when she can't find her engagement ring, sure it's a bad sign. Max and Tanya are excited and nervous; they agree to meet at the flat for a drink before telling everyone they're together. Max packs up the flat, he throws Vanessa's ring in a box. Oscar has an accident while playing alone. Cora phones Tanya who heads straight to the surgery. Oscar's fine, but Yusef asks to speak to Tanya. Yusef prompts Tanya to open a letter explaining her smear test has found pre-cancerous cells that might need treatment. She needs to make an appointment with the gynaecology department. Tanya mentions she's noticed some bleeding after sex. Tanya worries that it's bad, that's she's got cancer, just like her father. She stumbles out of the surgery in shock.
Realising Jean likes Norman, Kat's determined she should fight for him. Kat suggests Jean spearhead a campaign to save the Community Centre. Jean holds a meeting to plan a fundraising event. She suggests she and Norman work together, but somehow finds herself in charge of catering and Norman working with Pat. Jean proposes they hold a 'Fete and Fortune' day, with Norman as Pearly King. She's hoping to be Pearly Queen, but Norman asks Pat.
Jodie and Poppy insist Darren set a date for the wedding. When Darren panics about the cost, Max tells him to calm down. Mistakenly thinking Max's offering to pay for the wedding, Darren hugs him. Darren asks Tamwar to be his best man. Vanessa's thrilled when Jodie tells her Max has said the double wedding is on.
Rainie has religious leaflets to hand out and asks Tanya to put some in the salon.
Last on
Credits
| Role | Contributor |
| --- | --- |
| Tanya Jessop | Jo Joyner |
| Max Branning | Jake Wood |
| Greg Jessop | Stefan Booth |
| Dr Yusef Khan | Ace Bhatti |
| Vanessa Gold | Zoe Lucker |
| Jodie Gold | Kylie Babbington |
| Poppy Meadow | Rachel Bright |
| Darren Miller | Charlie G Hawkins |
| Tamwar Masood | Himesh Patel |
| Jean Slater | Gillian Wright |
| Kat Moon | Jessie Wallace |
| Alfie Moon | Shane Richie |
| Mo Harris | Laila Morse |
| Norman Simmonds | George Layton |
| Pat Evans | Pam St Clement |
| Patrick Trueman | Rudolph Walker |
| Jack Branning | Scott Maslen |
| Cora Cross | Ann Mitchell |
| Executive Producer | Bryan Kirkwood |
| Executive Producer | Bryan Kirkwood |
| Director | Jerry Smith |
| Director | Jerry Smith |
| Writer | Jeff Povey |
| Writer | Jeff Povey |
| Rainie Cross | Tanya Franks |
| Lauren Branning | Jacqueline Jossa |