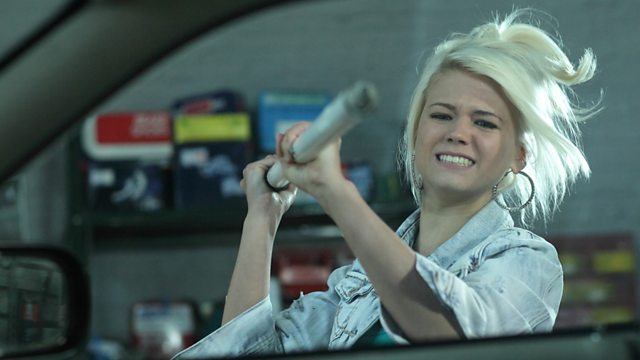 04/08/2011
Lola offers Phil her mobile in exchange for her job back. Phil takes the phone for Jay, but won't re-hire her. Later, Roxy's outraged when Lola's tries to steal her phone. Julie's annoyed, Lola insists she's trying to raise money to help the family. Billy pleads with Phil for help on their tenancy agreement but Phil refuses. Later, furious Lola smashes up the Arches and kicks a jack into the pit where Jay's working, knocking him unconscious. Terrified Lola confides in Julie. As the paramedics arrive, Phil blames Lola. Julie tells Phil it was her.
Tanya's stunned when Cora reveals she's been evicted. Tanya asks Greg to pack up the old house but he doesn't understand her reluctance and refuses. At the house, Tanya's emotional when seeing her father's old sick bed and shocked when Rainie accuses her of keeping their dad to herself when he was sick. Tanya's disgusted to learn Cora was really evicted for making her neighbour's life hell and given an ASBO. Tanya seeks comfort in Greg but is frustrated when he once again doesn't understand. Later, Tanya's comforted by Max as she sobs about her father.
Irritated by Jack's melancholy attitude, Max tells him to spend time with the family he has, urging him to spend the day with Amy.
Ian's chuffed when a mum from Bobby's class, Fiona, sympathises about his wife's death, giving him her number. When talking to Cheryl about his grief, he's surprised when she kisses him, suggesting she come back to his place.
When Janine buys presents for Tiffany she refuses them. Charmed by Amy, Janine gives them to her instead but angry Roxy won't accept them. Roxy's appeased when Janine explains she gave them to her because Amy gave her a flower, and gives her a set of keys to R&R.
Last on
Credits
| Role | Contributor |
| --- | --- |
| Julie Perkins | Cathy Murphy |
| Lola Pearce | Danielle Harold |
| Billy Mitchell | Perry Fenwick |
| Phil Mitchell | Steve McFadden |
| Jay Mitchell | Jamie Borthwick |
| Tanya Jessop | Jo Joyner |
| Cora Cross | Ann Mitchell |
| Rainie Cross | Tanya Franks |
| Max Branning | Jake Wood |
| Greg Jessop | Stefan Booth |
| Janine Malloy | Charlie Brooks |
| Roxy Mitchell | Rita Simons |
| Jack Branning | Scott Maslen |
| Alfie Moon | Shane Richie |
| Ian Beale | Adam Woodyatt |
| Tiffany Butcher | Maisie Smith |
| Cheryl Matthews | Heather Craney |
| Fiona Walker | Sarah Head |
| Jude | Keisha Atwell |
| Executive Producer | Bryan Kirkwood |
| Director | Richard Platt |
| Writer | Tim Price |
| Paramedic | Vanessa Havell |