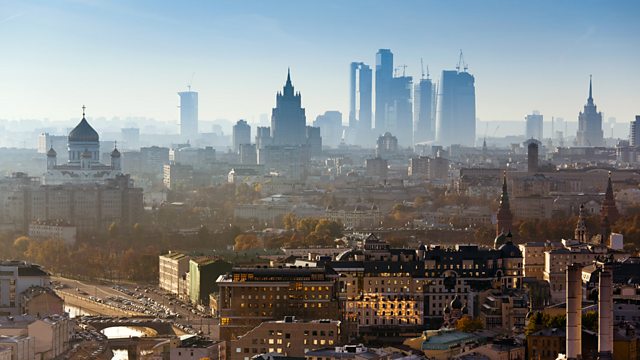 Leonid Brezhnev's 'era of stagnation' returns the country to the stifling conservatism of the past, plunging the USSR into crisis.
Speaking freely was risky and repression worsened after the Soviet invasion of Czechoslovakia when Soviet demonstrators were beaten up and sent to jail, although their courage inspired new generations of dissidents. The March of the Communist Brigades trumpets Soviet power: "Working hard every day is a holiday for us..." the workers sing, but the whole economy needed a radical overhaul.
As Brezhnev stalled and prevaricated "the USSR began the inexorable decline that would end in collapse, a quarter of a century later," says Martin Sixsmith. By the end of the 1960s national discontent was increasing in the Soviet republics, but Brezhnev ignored the fault lines that eventually tore the Soviet Union apart, instead he looked for scapegoats. When Solzhenitsyn wrote An Open Letter to the Soviet Authorities in 1973, urging Brezhnev: "Throw away the dead ideology that threatens to ruin us!" he was banished to the West. Sakharov, who took up the baton, was given 6 years internal exile. In 1979 Soviet troops invaded Afghanistan; the arms race resumed bankrupting the USSR, and hastening its collapse 10 years later.
In 1980 Lech Walesa turned a local rebellion into a nationwide struggle for Polish liberty and national dignity. The people's grievances were suppressed, but would explode again at the end of the decade. Meanwhile Reagan pressed ahead with his controversial 'Star Wars' missile shield, which left the Soviets vulnerable to an American nuclear strike. The Kremlin couldn't afford another arms race, but both Brezhnev's successors agreed to increase spending leaving problems for the next Soviet leader that put the country's very survival in doubt.
Producers: Anna Scott-Brown & Adam Fowler
A Ladbroke Production for BBC Radio 4.
Last on