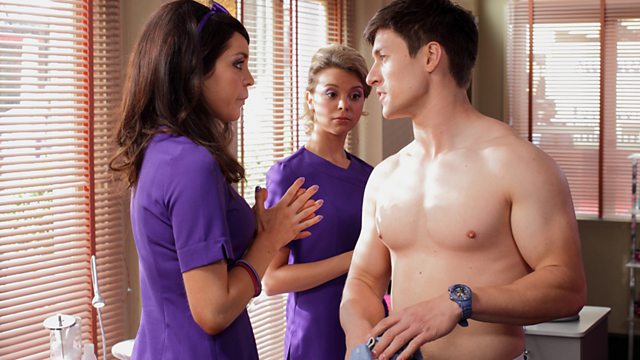 02/08/2011
Roxy regrets selling her share of R&R to Janine. Having told the bar staff to call in sick and blocked the club's computer, Phil's convinced Janine will be gone by the end of the day but is later shocked to discover the club running smoothly. Janine tells him she's coming for the Vic next.
Lola's angry at the way Phil treats Billy and reveals to Jay she's been short changing customers in the cafe. Later, Phil discovers Lola's theft and fires her. Julie's angry, this could effect their tenancy agreement, but Billy's soft on Lola and insists Julie start treating Lola like family.
Ian meets Cheryl in the Vic, she's touched that Ian's chosen to confide in her. Ian buys an urn from Eddie and presents it to Cheryl as 'Jane'. Cheryl suggests they meet up again soon.
Tanya claims she's too busy for lunch with Greg but can't refuse when Cora tells Rainie to cover the salon. Greg's upset that Cora and Rainie are still there - they never spend any time together. Tanya apologizes, leading him upstairs. Post-coital, Tanya's awkward when Greg's affectionate; he's never stopped loving her. Later, Cora thinks Tanya never appreciates what she has, Tanya's marriage is a sham. Cora demands to know if Tanya loves Greg; Tanya can't answer.
When Tanya forgets her birthday, Cora drinks in the Vic alone. She falls off her bar stool and has to be escorted home by Patrick.
Carol flees when Tyler and Anthony realise she's spent the night with Eddie. The boys return Kat's furniture - except the sofa. Tyler goes on a double date with Poppy, Jodie and Darren. Darren's irritated when Tyler charms both girls. Eddie attempts to woo Carol and, later, Tyler and Anthony catch them entwined on the sofa.
Last on
Credits
| Role | Contributor |
| --- | --- |
| Tanya Jessop | Jo Joyner |
| Cora Cross | Ann Mitchell |
| Rainie Cross | Tanya Franks |
| Jodie Gold | Kylie Babbington |
| Darren Miller | Charlie G Hawkins |
| Poppy Meadow | Rachel Bright |
| Tyler Moon | Tony Discipline |
| Anthony Moon | Matt Lapinskas |
| Eddie Moon | David Essex |
| Carol Jackson | Lindsey Coulson |
| Janine Malloy | Charlie Brooks |
| Phil Mitchell | Steve McFadden |
| Roxy Mitchell | Rita Simons |
| Lola Pearce | Danielle Harold |
| Billy Mitchell | Perry Fenwick |
| Julie Perkins | Cathy Murphy |
| Jay Mitchell | Jamie Borthwick |
| Patrick Trueman | Rudolph Walker |
| Alfie Moon | Shane Richie |
| Executive Producer | Bryan Kirkwood |
| Director | Richard Platt |
| Writer | Wendy Granditer |
| Greg Jessop | Stefan Booth |
| Max Branning | Jake Wood |
| Ian Beale | Adam Woodyatt |
| Cheryl Matthews | Heather Craney |