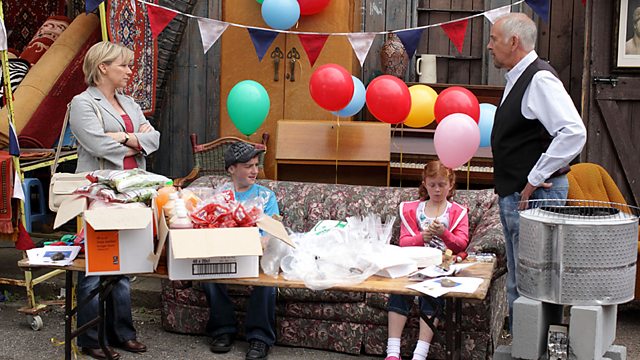 01/08/2011
Roxy's reduced to tears when Phil tells her to sell her share of R&R – Ronnie's not there to hold her hand anymore. In the Vic, she drunkenly kisses Tyler and agrees to go home with him but hurriedly changes her mind when she sees Jack's disgust. Ashamed, Roxy despairs to Christian about the state of her life. Later, Phil's horrified when Roxy reveals she's sold her share of the club to Janine.
Michael's intrigued when Jean's cold with Eddie. Anthony convinces Eddie to hold a launch party for Moon & Sons. Michael encourages Eddie to go for it with Carol – the feeling's obviously mutual. Michael's curious when Tyler jokes about Eddie's 'hush hush' trips to Chingford. Eddie apologizes to Jean for his outburst but warns her to stay out of his business. Michael invites Carol for a family curry, but later presents Eddie and Carol with a meal for two. Carol's glad they've been set up. Jack warns Michael to keep Carol out of his scheming.
Kat and Alfie return from holiday a day early with Shenice – she's staying for the rest of the summer. Kat's livid to discover their furniture's missing.
Exhausted Zainab plans a family dinner during Ramadan, including Yusef, Syed and Masood. Afia's frustrated by Zainab's constant criticisms. During the meal, Syed nervously reveals he and Christian are engaged. Frustrated when he's met with a stunned silence, he storms out. Zainab excuses herself - she feels faint. She thinks this a reaction to her pills. When Yusef suggests she stop taking them she hurriedly declines.
Ian's desperate to get Bobby into the community centre Summer Club, struggling to cope without Jane. Staff member Cheryl misunderstands, assuming Ian's a widower. Sympathising, Cheryl gives Bobby a place, telling Ian she's there if he needs to talk.
Last on
Credits
| Role | Contributor |
| --- | --- |
| Roxy Mitchell | Rita Simons |
| Phil Mitchell | Steve McFadden |
| Janine Malloy | Charlie Brooks |
| Michael Moon | Steve John Shepherd |
| Eddie Moon | David Essex |
| Tyler Moon | Tony Discipline |
| Anthony Moon | Matt Lapinskas |
| Carol Jackson | Lindsey Coulson |
| Jack Branning | Scott Maslen |
| Zainab Masood | Nina Wadia |
| Masood Ahmed | Nitin Ganatra |
| Dr Yusef Khan | Ace Bhatti |
| Syed Masood | Marc Elliott |
| Christian Clarke | John Partridge |
| Tamwar Masood | Himesh Patel |
| Afia Masood | Meryl Fernandes |
| Alfie Moon | Shane Richie |
| Kat Moon | Jessie Wallace |
| Mo Harris | Laila Morse |
| Jean Slater | Gillian Wright |
| Executive Producer | Bryan Kirkwood |
| Director | Richard Platt |
| Writer | Roy Boulter |
| Ian Beale | Adam Woodyatt |
| Cheryl Matthews | Heather Craney |
| Liam Butcher | James Forde |
| Tiffany Butcher | Maisie Smith |
| Shenice Quinn | Lily Harvey |
| Bobby Beale | Alex Francis |