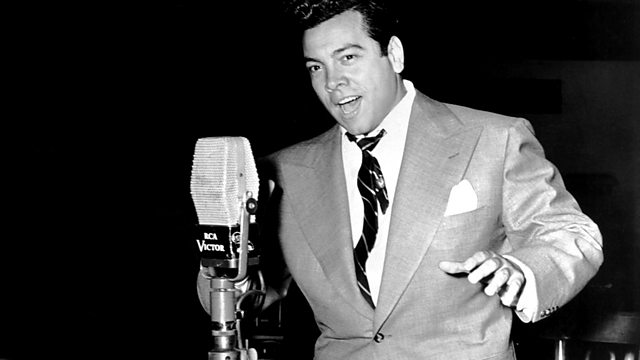 05/08/2011
Another chance to hear Friday Night is Music Night's tribute to tenor Mario Lanza, who would have been 90 this year.
"Yours is a Voice such as is heard once in a hundred years" so said the legendary conductor Serge Koussevitsky about Alfred Arnold Cocozza - the tenor who took the stage name of Mario Lanza.
Lanza's short life began on 31 January 1921 in Philadelphia. He began singing lessons when aged 15 and made his operatic debut at Tanglewood in August 1942. His operatic career was interrupted by the outbreak of war but on his return to the stage in 1947 he was spotted by Louis B Mayer. Mayer had plans for Mario as "the singing Clark Gable".
Lanza left the opera stage behind and signed a seven year contract making a string of hit films including The Midnight Kiss, The Toast of New Orleans and The Great Caruso. However, by 1952 Lanza's weight, health and on set behaviour was causing concern - and though it is his voice you hear in The Student Prince - on screen you see actor Edmund Purdom miming to Lanza's tracks. But by now Lanza was in huge demand as a concert and recording star.
He died just eight years later of a heart attack at the tragically early age of 38. The career of Mario Lanza inspired a whole host of future singers including Elvis Presley and Frank Sinatra. Placido Domingo said of him - it was "a voice of beauty, passion and power." Jose Carreras said: "Lanza's passion and the way his voice sounds are what made me sing opera. I actually owe my love for opera thanks to a kid from Philadelphia".
In tonight's special Friday Night is Music Night, three British tenors pay tribute to the great man who would have been 90 this year. Presenter Ken Bruce is joined by Bonaventura Bottone; Wynne Evans and Alexander Grove. They are joined by soprano Sarah Fox. The BBC Concert Orchestra is conducted by Roderick Dunk and the show was recorded at London's Hackney Empire in June 2011.
Last on