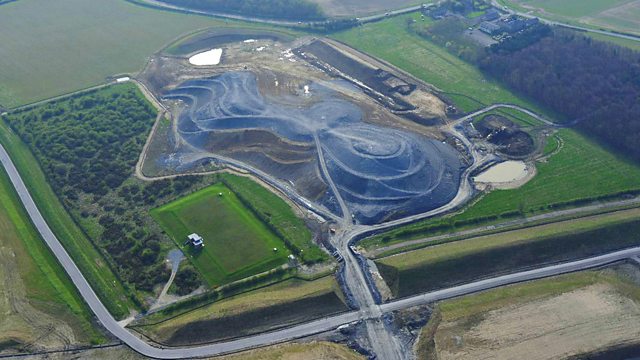 Northumberlandia
Listen in pop-out player
How are the people of Cramlington reacting to the open cast mining in their area and to the creation of the largest replica of the human body in their landscape? Will it attract tourists and put Cramlington on the map or will they become the laughing stock of Northumberland?
For this week's Open Country, Jules Hudson visits Cramlington in the north east where work has started on a giant sculpture of a naked woman which is to be carved into the Northumberland landscape. It will be made from 1.5 million tonnes of overburden from the Shotton open cast mine, near Cramlington. It will be 400 metres long and will stand higher than the Angel of the North. The sculpture, known as Northumberlandia, will form the centrepiece of a 29 hectare public park on the Blagdon Estate and, once developed, it is believed it will be the largest human form to be sculpted into the land, in the world. But these plans have prompted opposition from some, as did the plans for the open cast mine.
From the car park of the Snowy Owl pub, Jules hears from landlord Colin Ward about his thoughts on his newest and nearest neighbour, before heading off to check on progress. Taking the route along the leg, knee and thigh of Northumberlandia, Jules arrives on the sculpture's forehead with Mark Dowdell and Iain Lowther of the Banks Mining Group to find out about their reasons for embarking on such an ambitious project and what they hope it will bring to the local economy and community.
But not everyone is happy. Back at the Snowy Owl, Jules meets Tony Ives who set up a local opposition group, SCRAM - Support Cramlington Residents Against Mining. Tony tells Jules why he is so unhappy with the idea of Northumberlandia, which has been given the alternative nickname of 'Slag Alice' by some people who are against the idea. However, at nearby North Shotton farm, tenant farmers Julie and Robson Philipson are looking forward to the completion of the sculpture and the park. Despite losing much of their farm to the open cast mine, and being left with only two of their fields, Julie and Robson are adapting to a different way of life on the farm and are excited about the prospect of Northumberlandia opening in 2013.
Presenter: Jules Hudson
Producer: Helen Chetwynd.
Last on