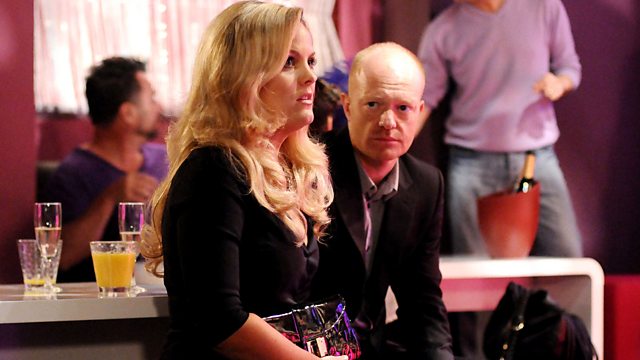 18/07/2011
Janine spreads the word about her party in a chauffeur driven car, Pat's adamant no one will turn up. Ricky worries to Pat that with the lack of jobs he'll have to go back to Dubai. Helped by Kim, Janine tempts in party guests using burlesque dancers and raffle prizes including tickets to Las Vegas. Janine tries to tempt Ricky to come to her party and plans to give Ricky his 'rightful claim to £100,000'. Pat's disgusted that Janine's squandering her money when she should be taking care of Ricky. Janine doesn't reveal her plans, telling Pat to just make sure Ricky's at the party. Later, the party guests are annoyed when Janine fixes the raffle to win the Las Vegas tickets, refusing to take anyone with her. She presents Ricky with an envelope but, disgusted with her behaviour, Ricky tears up the envelope and storms out. Janine runs after him telling him she's leaving Walford, a triumphant Pat and Norman emerge from the Vic; Norman's contesting Lydia's will.
When Rainie's offered crack by a dealer she and Shirley work together to throw him out, then Shirley bans her from R&R. Watched by Rainie, Ryan pockets the dealer's drugs. When drunk Lauren kisses Ryan, Ryan kisses her back.
Nauseas, Tanya worries that she's pregnant but is confused as she's on the pill. Greg's delighted, Tanya's relieved when her test is negative.
Julie insists she was acting in Lola's best interest by calling the police, Billy thinks Julie's jealous. Lola crashes Janine's party, and is delighted that Billy wants her to live with them.
Fatboy misses Mercy; Dot thinks he should take time to grieve. He downs shots and gets drunk with Lauren and Whitney at Janine's party. Lauren passes her driving theory test.
Last on
Credits
| Role | Contributor |
| --- | --- |
| Janine Malloy | Charlie Brooks |
| Pat Evans | Pam St Clement |
| Norman Simmonds | George Layton |
| Ricky Butcher | Sid Owen |
| Max Branning | Jake Wood |
| Tanya Jessop | Jo Joyner |
| Greg Jessop | Stefan Booth |
| Vanessa Gold | Zoe Lucker |
| Rainie Cross | Tanya Franks |
| Shirley Carter | Linda Henry |
| Phil Mitchell | Steve McFadden |
| Billy Mitchell | Perry Fenwick |
| Julie Perkins | Cathy Murphy |
| Lola Pearce | Danielle Harold |
| Lauren Branning | Jacqueline Jossa |
| Whitney Dean | Shona McGarty |
| Arthur 'Fat Boy' Chubb | Ricky Norwood |
| Dot Branning | June Brown |
| Ian Beale | Adam Woodyatt |
| Andy | Jethro Skinner |
| Executive Producer | Bryan Kirkwood |
| Director | Michael Owen Morris |
| Writer | Natasha Langridge |
| Kim Fox | Tameka Empson |
| Ryan Malloy | Neil McDermott |
| Liam Butcher | James Forde |
| Tiffany Butcher | Maisie Smith |
| Morgan Jackson-King | Devon Higgs |
| Paul | Adam Leese |