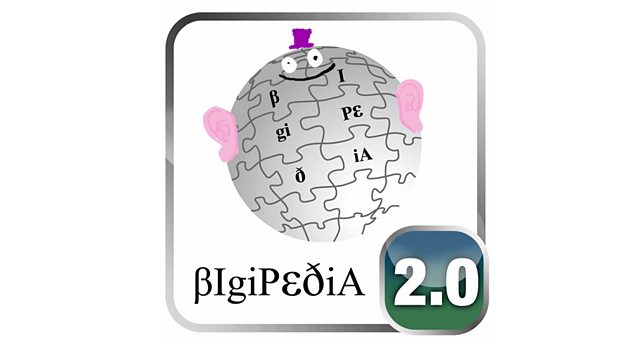 In this episode, the wisdom of crowds, the joy of deregulated advertising and Bigipedia throughout history.
At last, the long-awaited release of Bigipedia 2.0 - the infallible, ever-present cyberfriend is back! Now with all errors and mistakes.
Bigipedia 2.0 is now bigger, better and closer - so it looks bigger twice!
Bigipedia was conceived by Nick Doody, and written by Nick Doody, Matt Kirshen and Sarah Morgan, with Carey Marx.
It features Ewan Bailey, Margaret Cabourn-Smith, Nick Doody, Neil Edmond, Pippa Evans, Martha Howe-Douglas, Lewis Macleod and Jess Robinson. Occasionally you can hear Matt Kirshen.
Guy Jackson has done some music and that.
Bigipedia is a Pozzitive production, produced by David Tyler. His radio credits include Armando Iannucci's Charm Offensive, Cabin Pressure, Another Case Of Milton Jones, Jeremy Hardy Speaks To The Nation, Giles Wemmbley Hogg Goes Off, The 99p Challenge, The Castle, The 3rd Degree and even, going back a bit, Radio Active. His TV credits include Paul Merton - The Series, Spitting Image, Absolutely, The Paul and Pauline Calf Video Diaries, Coogan's Run, The Tony Ferrino Phenomenon and Executive Producer of Victoria Wood's Dinnerladies.
Produced and directed by David Tyler
A Pozzitive production for BBC Radio 4.
Last on