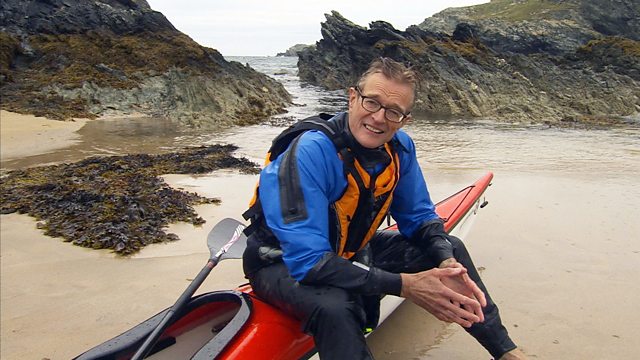 Coast travels right around the wonderful Welsh coast from the border with England in the south on the Severn estuary, to the northern English border on the Dee estuary.
Nick Crane investigates the evidence that a devastating tsunami crashed on to the coast of Wales and England some 400 years ago. Villages were wiped off the map and thousands died, leaving the survivors to believe they had suffered the judgement of God; but was it a tidal wave that was to blame?
Nick also discovers why scientists planning an expedition to the Red Planet find the Welsh coast a surprisingly good stand-in for the surface of Mars. And at the end of his journey Nick gains unique access to a remarkable passenger ship left stranded on the Welsh shore and virtually untouched since the 1980s.
Alice Roberts attempts to get airborne with just helium balloons attached to her waist as she tests the claim that the world's first powered flight was actually made by a Welsh carpenter. Meanwhile, Miranda Krestovnikoff lands where few people ever tread - on Grassholm. It is an extraordinary island normally kept exclusively for the birds, and Miranda joins a scientific expedition trying to discover where the gannets of Grassholm disappear to in the winter.
In 1947 two brothers were on holiday on Anglesey when one had a brainwave for a completely new kind of vehicle. There and then he sketched his rough notion in the sand - but this was an idea that would survive and endure. Dick Strawbridge explores how that coastal blueprint became the plan for the Land Rover.
Plus Tessa Dunlop reveals how some 30 years ago an army of local volunteers managed to keep 3,000 Asians, who had been expelled from Uganda, warm and well-fed in an abandoned military base during a Welsh seaside winter.
Last on
Credits
| Role | Contributor |
| --- | --- |
| Presenter | Nicholas Crane |
| Presenter | Alice Roberts |
| Presenter | Miranda Krestovnikoff |
| Presenter | Dick Strawbridge |
| Presenter | Tessa Dunlop |
| Executive Producer | William Lyons |
| Series Editor | Steve Evanson |