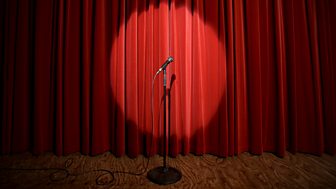 The Comedy Club Interviews
For two hours a night, seven nights a week, hear the best in contemporary radio comedy. Plus, across the week, the odd comedian drops by for a natter.
A selection of interviews and programmes from from the last 7 days of the Comedy Club.
The Comedy Club
The Comedy Club goes out every night from 10pm-midnight. 
Arthur Smith is your host on Friday and Sunday. 
On weeknights Tom Wrigglesworth, Sara Pascoe, Peacock and Gamble, Isy Suttie and Jon Holmes hold the keys to the club.
With the focus on contemporary comedy - from sketch to stand up and sitcom - it's a place to hear modern cult classics and catch up with the latest comedians who drop by for a chat. 
Recent Comedy Club highlights
.