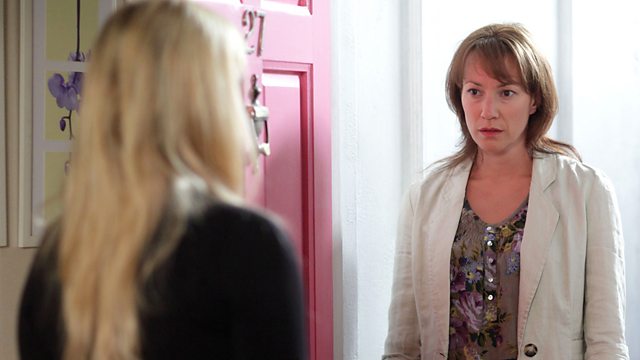 15/07/2011
Billy proudly introduces Lola to some of the Mitchells. She's pleased to learn Jay's not a blood relative. Heather unintentionally reveals to Billy and Lola Julie's misgivings about Lola moving in. Abi isn't happy when she sees Lola kiss Jay. Lola warns Julie not to make Billy chose between them. Later, when Lola and Billy return from the café, the police are waiting to take Lola back to the children's home. Lola quickly realises Julie called them. Lola tells Billy she'll come straight back. Julie tells Billy it's for the best, but he can't bear to look at her.
When Zainab finds Syed asleep on the sofa she's thrilled, sure he's left Christian. Learning Christian's still planning to move and then adopt on his own, Syed tells him he's changed his mind and does want to be a father. Zainab realises Syed's not going to turn up for the welcome home dinner she's lovingly prepared.
Janine arrives back in the Square. She tries to plan her next venture but no-one's keen to talk to her about business. Ian's grateful when Denise offers to take Bobby to school and pick him up afterwards. When Bobby falls off a swing, Janine tells Ian Denise has been neglecting him. Janine repays Ricky the money he spent on Lydia's funeral. Pat's disgusted that Janine doesn't seem to be planning to use any of her inheritance to help Ricky. Janine invites everyone to a party at R&R on Monday – free drinks all night.
Rainie asks Tanya to attend the ceremony her support group are having, she's been clean of drugs for six months. Having met up with Max on the way, Tanya arrives just as the ceremony finishes much to Rainie's disappointment – she'd been planning to give Tanya flowers to thank her for being a wonderful sister.
Last on
Credits
| Role | Contributor |
| --- | --- |
| Billy Mitchell | Perry Fenwick |
| Julie Perkins | Cathy Murphy |
| Lola Pearce | Danielle Harold |
| Syed Masood | Marc Elliott |
| Christian Clarke | John Partridge |
| Roxy Mitchell | Rita Simons |
| Janine Malloy | Charlie Brooks |
| Pat Evans | Pam St Clement |
| Ricky Butcher | Sid Owen |
| Tanya Jessop | Jo Joyner |
| Rainie Cross | Tanya Franks |
| Greg Jessop | Stefan Booth |
| Ian Beale | Adam Woodyatt |
| Bobby Beale | Alex Francis |
| Denise Fox | Diane Parish |
| Zainab Masood | Nina Wadia |
| Afia Masood | Meryl Fernandes |
| Tamwar Masood | Himesh Patel |
| Heather Trott | Cheryl Fergison |
| Jay Mitchell | Jamie Borthwick |
| Phil Mitchell | Steve McFadden |
| Max Branning | Jake Wood |
| Arthur 'Fat Boy' Chubb | Ricky Norwood |
| Executive Producer | Bryan Kirkwood |
| Director | Lance Kneeshaw |
| Writer | Lucy Gannon |
| Abi Branning | Lorna Fitzgerald |
| Policeman | Alistair Robins |