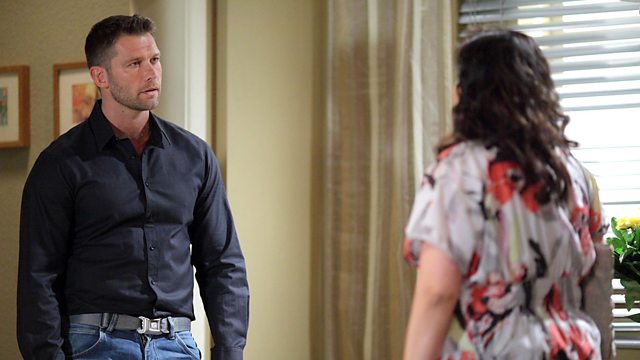 14/07/2011
With Tamwar and Afia staying, Christian and Syed's flat is crowded. Zainab and Yusef separately ask Tamwar and Afia about their honeymoon, the conversations are awkward. Zainab's sad when she sees Afia and Yusef hug. Christian lures Zainab to the flat, forcing her to talk to him about the adoption. Zainab doesn't hold back, detailing her hatred of Christian and of homosexuality, but Christian argues back and eventually wins Zainab round. Yusef offers to lend Christian the deposit for a bigger flat. Meanwhile, Masood realises Syed's having doubts about the adoption and counsels him to make his mind up before it's too late. Zainab persuades Tamwar and Afia to move in with her. Christian excitedly tells Syed he's found them a new flat and Zainab's agreed to meet the social worker. Syed admits he doesn't want to be a dad. Christian tells Syed to get out, insisting he's going to adopt, even if he has to do it on his own.
Lola tries to find Billy. Abi misses Jay and is upset when she sees Lola flirt with him. After Lola steals Abi's phone, Tanya frogmarches her to Julie and Billy's flat. Lola returns Billy's wallet. Julie thinks Lola's trouble, but Billy's convinced she's their second chance. Lola flees after overhearing Julie suggest sending her back to the children's home. Lola washes cars for Fatboy and then attempts to steal one. Fatboy jumps in as Lola drives away and begs her to stop the car. She eventually crashes into the chip shop, having swerved to avoid Billy. Billy tells her to run.
Fatboy's grumpy, missing Mercy. Dot and Ian are sympathetic, but when Fatboy insists he's not in the mood to go to work at the car lot, Dot tells him he's being selfish.
Last on
Credits
| Role | Contributor |
| --- | --- |
| Christian Clarke | John Partridge |
| Syed Masood | Marc Elliott |
| Zainab Masood | Nina Wadia |
| Dr Yusef Khan | Ace Bhatti |
| Afia Masood | Meryl Fernandes |
| Tamwar Masood | Himesh Patel |
| Masood Ahmed | Nitin Ganatra |
| Billy Mitchell | Perry Fenwick |
| Julie Perkins | Cathy Murphy |
| Lola Pearce | Danielle Harold |
| Arthur 'Fat Boy' Chubb | Ricky Norwood |
| Dot Branning | June Brown |
| Jay Mitchell | Jamie Borthwick |
| Abi Branning | Lorna Fitzgerald |
| Jodie Gold | Kylie Babbington |
| Darren Miller | Charlie G Hawkins |
| Tyler Moon | Tony Discipline |
| Poppy Meadow | Rachel Bright |
| Tanya Jessop | Jo Joyner |
| Max Branning | Jake Wood |
| Ian Beale | Adam Woodyatt |
| Ricky Butcher | Sid Owen |
| Mr Lister | Nick Wilton |
| Executive Producer | Bryan Kirkwood |
| Director | Lance Kneeshaw |
| Writer | Perrie Balthazar |