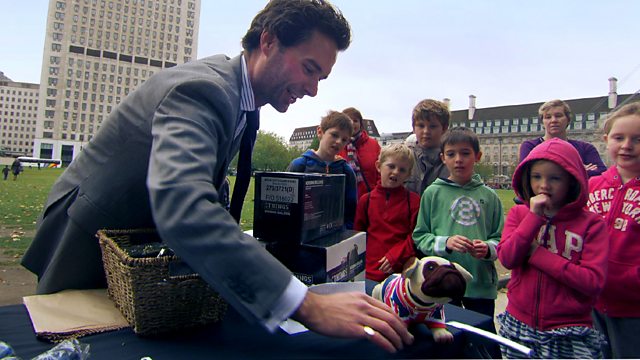 Called to a north London wholesale warehouse, the teams are met by a nostalgic Lord Sugar, who tells the teams that it was from places like this that he started out buying low to sell high. He gives both teams a pallet carrying 250 pounds' worth of wholesale goods. They must find out what sells best, then re-invest in those products. It is a simple exercise in following the money and increasing sales.
The pallets contain cheap nodding dogs, pricey pressure washers, duvet sets, cut-price sunglasses, brollies, watches and more. The prospects for the task look good, and there are quick volunteers for the team leader roles.
They have the whole of London to sell to: street markets, houses door-to-door, offices and maps to help find more. The trick is to match the products to the potential market, but some get it badly wrong, taking tacky stuff to snobby areas, or high-priced goods to East End pound shops. For some selling comes naturally, but for others it's a humiliating struggle.
In the battle to sell, the teams start to forget the challenge. One team wantonly under-invests, while the other returns to buy an even wider range of products. Arguments about how best to accumulate cash spilt the candidates, leaving both teams in disarray.
Lord Sugar nurses hopes for high returns, but in the boardroom they are dashed by dismal results. Turning on the losers, he vents his fury on their performance - particularly their logistics - and the backstabbing begins. In the end there is little to choose between the final three, then the decision is made and an emotional loser hears the words "You're fired!".
Last on
Credits
| Role | Contributor |
| --- | --- |
| Participant | Lord Sugar |
| Participant | Lord Sugar |
| Participant | Lord Sugar |
| Participant | Nick Hewer |
| Participant | Nick Hewer |
| Participant | Nick Hewer |
| Participant | Karren Brady |
| Participant | Karren Brady |
| Participant | Karren Brady |
| Executive Producer | Michele Kurland |
| Executive Producer | Michele Kurland |
| Executive Producer | Michele Kurland |
| Series Editor | Mark Saben |