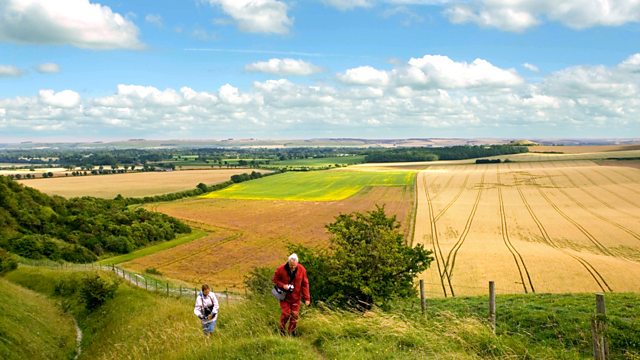 Trailblaze on the South Downs
Listen in pop-out player
Why has a new scheme to encourage people onto our national trails upset some people? For the first of two programmes from Sussex, Helen Mark has her running shoes on along the South Downs Way to find out about a project to encourage long-distance runners out into the countryside. The scheme has sparked controversy with a petition launched against the installation of electronic boxes on several of our 15 national trails. Trailblaze is a pilot project which has been launched by events company Endurance Life in partnership with Natural England to allow runners to take up the challenge of a long distance route whenever they want to rather than as part of a large event. The aim is to run as far as they would like to go, whenever they choose, and enter an electronic timing tag into boxes fitted at points along the way which records their progress. The scheme is currently operating on several of our national trails and the organisers say that this has been created by a team of trail runners who feel that the joy of running is increased greatly when it takes place in a stunning landscape. But walkers and outdoor enthusiasts are questioning the need for this scheme. Many people are concerned about the aesthetics of the scheme and what they see as the 'commercialisation' of the countryside. The electronic boxes, which appear at various points along the trails, have caused concern amongst traditionalists who see them as unnecessary and ugly and there is also concern about the pressure on the footpaths and how much the natural environment will be affected and damaged. For this week's Open Country, Helen Mark dons her running shoes and heads out onto the South Down Way where she meets Stuart Mills, a keen runner who has taken up the Trailblaze challenge. Helen also hears from Andrew Barker of Endurance Life and Tess Jackson, from Natural England who are behind the scheme about their reasons for setting it up. Nigel Buxton, whose home is close to the national trail and who moved there specifically to enjoy walking on the chalk of the Downs, tells Helen about his unhappiness with the electronic boxes that are found along the South Downs Way and Helen hears from outdoor writer, Mark Richards, about his concern for the welfare of the paths that we walk.
Presenter: Helen Mark
Producer: Helen Chetwynd.
Last on