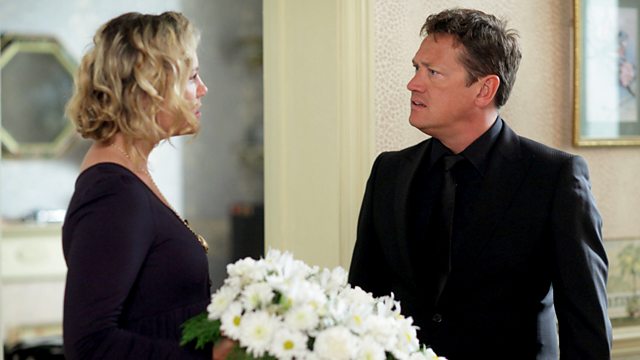 05/07/2011
Ronnie's questioned by police over the Vic break in, Roxy's indignant on her behalf. Watching Michael gloat, Ronnie's suspicious. Jack's bought Ronnie an eternity ring. Roxy urges Jack to consider the possibility of a prison sentence but Jack insists Ronnie's coming home. In the empty boxing club, Ronnie confronts Michael; she knows he set her up. Desperate to protect Jack and Roxy, Ronnie insists Michael tell Roxy everything or she will. To Ronnie's surprise, Michael breaks down confessing he's a horrible person, he made a pass at Ronnie because she understands him. Ronnie insists that by going to prison she'll take responsibility for her guilt and thinks Michael should do the same. Michael agrees, watching intently as Ronnie places Danielle's locket in her bag. Later, Michael "discovers" the locket in Tommy's pram, feigning surprise. Roxy's horrified as she recognises it, turning on Ronnie. Ronnie desperately denies putting it there, insisting Michael set her up. Roxy walks away in disgust. Smug Michael grins and follows her, leaving Ronnie in tears.
Kat's paranoid for Tommy's safety. Claiming Alfie can't understand her feelings, she sneers that he's not a real man. Both furious, Alfie and Kat slam around the Vic until they can't help laughing. Alfie insists he understands Kat's feelings, but he's hopeful that after the sentencing they can be a normal family
Abi's determined to tell the truth about the Vic break in. Jay's irritated; he won't back her up.
Poppy convinces Shirley to try a spray tan at the salon, leaving Jodie in charge of the café. Shirley returns tanned bright orange and drunk on free cava.
A taxi pulls up on the square, a man gets out, accidentally ripping his suit jacket. Grief-stricken Janine's furious that Lydia's son Norman has come for the funeral and insists he's not invited, but she's overruled by Pat.
Last on
Credits
| Role | Contributor |
| --- | --- |
| Ronnie Branning | Samantha Womack |
| Roxy Mitchell | Rita Simons |
| Michael Moon | Steve John Shepherd |
| Jack Branning | Scott Maslen |
| Alfie Moon | Shane Richie |
| Kat Moon | Jessie Wallace |
| Janine Malloy | Charlie Brooks |
| Pat Evans | Pam St Clement |
| Ricky Butcher | Sid Owen |
| Shirley Carter | Linda Henry |
| Jodie Gold | Kylie Babbington |
| Poppy Meadow | Rachel Bright |
| Jean Slater | Gillian Wright |
| Jay Mitchell | Jamie Borthwick |
| Abi Branning | Lorna Fitzgerald |
| Tyler Moon | Tony Discipline |
| Norman Simmonds | George Layton |
| Det Frank Merrill | Steven Swan |
| Executive Producer | Bryan Kirkwood |
| Director | Lee Salisbury |
| Writer | Carey Andrews |