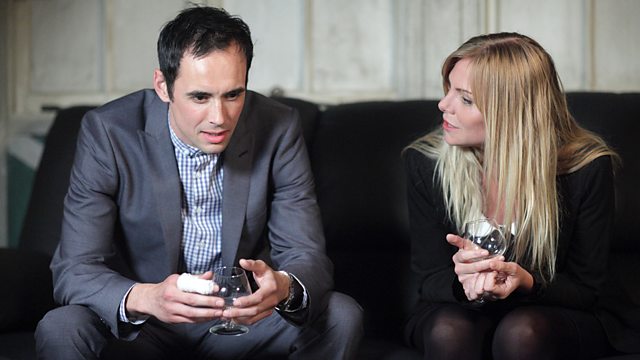 04/07/2011
Jack and Roxy find it hard to cope when Ronnie calmly starts preparing for prison. Roxy thinks Michael's acting weirdly. At the gym, Ronnie admits to Michael she sometimes thinks he's the only one who understands her; she's horrified when he tries to kiss her. Michael tries to persuade her to run away with him. Ronnie realises he's planned this and accuses him of being like her father. Rejected, Michael turns on Ronnie, calling her damaged goods. Ronnie insists she'll kill him if he doesn't stay away from her family. At the launderette, Dot advises Ronnie to trust Jack and talks about how she can find peace. Roxy asks Michael if he's been avoiding her, worried about the connection he seems to have with Ronnie. Michael assures Roxy Ronnie's not a patch on her. Michael sees Abi and Jay fleeing the Vic but lies to Kat and Alfie, claiming he saw Ronnie running through the Square.
Jay takes Abi for a drink in the Vic, but is embarrassed when Eddie will only serve them squash. Later, Jay and Abi let themselves into the Vic using Phil's keys, but run away after Abi accidentally knocks a tray of empties off the bar, waking the household.
Having no clothes of her own, Janine's forced to wear Julie's old shell suit. When Janine judges Julie's life, Julie reminds her she's got Billy, Janine has no-one. Later, Janine stands up for Julie when she's accused of stealing Poppy's purse. Billy's surprised to find the two women getting on. Julie thinks they've had a breakthrough, but then realises Janine stole the purse.
Unbeknownst to Julie, Billy meets Henry Mason, who agrees to help him track down their son.
Poppy's lost her job; Jodie suggests she come and work at Booty.
Last on
Credits
| Role | Contributor |
| --- | --- |
| Michael Moon | Steve John Shepherd |
| Kat Moon | Jessie Wallace |
| Alfie Moon | Shane Richie |
| Eddie Moon | David Essex |
| Ronnie Branning | Samantha Womack |
| Jack Branning | Scott Maslen |
| Roxy Mitchell | Rita Simons |
| Billy Mitchell | Perry Fenwick |
| Julie Perkins | Cathy Murphy |
| Janine Malloy | Charlie Brooks |
| Jodie Gold | Kylie Babbington |
| Poppy Meadow | Rachel Bright |
| Jay Mitchell | Jamie Borthwick |
| Abi Branning | Lorna Fitzgerald |
| Dot Branning | June Brown |
| Henry Mason | Brian Hibbard |
| Executive Producer | Bryan Kirkwood |
| Director | Terry Dyddgen-Jones |
| Writer | Matt Evans |