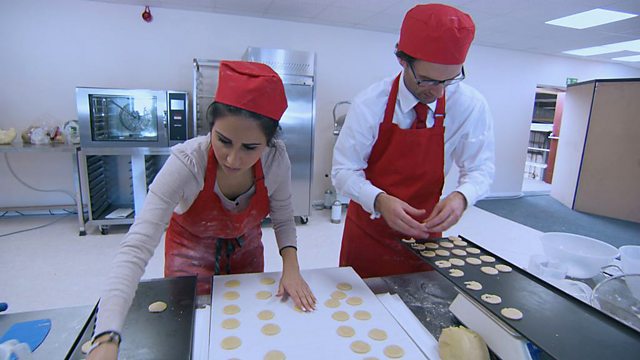 The candidates are enjoying their day off when Lord Sugar turns up at the door. Suddenly it's down to work after he tells them to make, brand and pitch a new type of upmarket biscuit. Project managers get picked (in one case reluctantly) and then it's time for the teams to split up, with half off to a biscuit development lab in Swansea.
The teams have two days to get the baking done and packaging designed. In Wales there are sharp elbows in evidence in one team as two of the candidates vie to get their idea made, whilst the other team goes straight for an after-school treat.
The ultra-competitive team's focus group munches its way through lots of crunchy offers without a favourite emerging. No-one likes ideas suggested by fellow team members and in the end the decision is a compromise. On the other team, the branding for kids ends up losing precision and no-one can understand its selling point.
Hard work in the development lab produces professional looking biscuits. Packaging is equally impressive but the names and invented straplines make for confusing pitch rehearsals and plenty of backstabbing.
At the pitches one team tries to create a mini-drama, changing the script twice and still failing to communicate the idea. In the end both teams stumble through pitches that are as crumbly as their biscuits. The hard-nosed buyers from some of Britain's biggest supermarkets appear not to bite. They report back to Lord Sugar who reveals the outcome in the boardroom - the result is a shock to Lord Sugar and to both teams.
On the losing team the culprit is uncovered. After some spirited defence and a few regrets it's a close call...then - 'You're fired!'.
Last on
Credits
| Role | Contributor |
| --- | --- |
| Participant | Lord Sugar |
| Participant | Lord Sugar |
| Participant | Lord Sugar |
| Participant | Nick Hewer |
| Participant | Nick Hewer |
| Participant | Nick Hewer |
| Participant | Karren Brady |
| Participant | Karren Brady |
| Participant | Karren Brady |
| Executive Producer | Michele Kurland |
| Executive Producer | Michele Kurland |
| Executive Producer | Michele Kurland |
| Series Editor | Mark Saben |