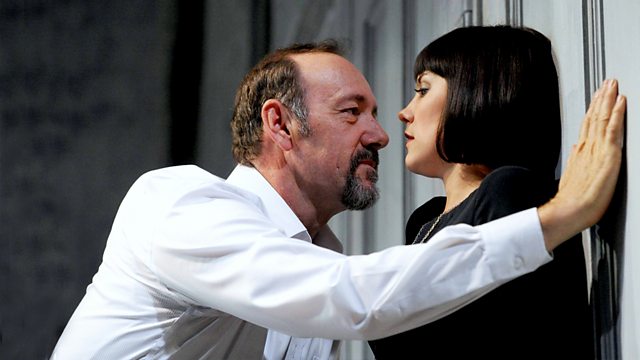 02/07/2011
Listen in pop-out player
Sarfraz Manzoor and his guests writer Bidisha, actor Kerry Shale and theatre writer David Benedict review the cultural highlights of the week including Richard III at the Old Vic.
The last time Sam Mendes directed Kevin Spacey was in the 1999 film American Beauty and they both won Oscars. Now the pair are reunited at the Old Vic in London for Mendes' production of Richard III with Spacey playing the power-crazed Plantagenet.
The action in Aatish Taseer's novel Noon takes place over two decades - from the mid 80s to the present day - and focuses on Rehan Tabassum as he travels from the West back to India and Pakistan, trying to reconcile himself with his long absent father and struggling to come to terms with his ambivalent feelings for his homeland.
Iranian director Asghar Farhadi's film A Separation is set in present-day Tehran. It tells the story of a couple - Simin and Nader - whose marriage runs into trouble when they can't agree on whether or not to leave the country with their 11 year old daughter and Nader's senile father. The film has picked up a succession of awards including the Golden Bear at the Berlin Film Festival.
The BBC1 drama Stolen - written by Stephen Butchard and directed by Justin Chadwick - stars Damian Lewis as a police officer working in the Human Trafficking Unit, investigating cases of children being trafficked into the country to be sold on and exploited.
Eyewitness: Hungarian Photography in the 20th Century is an exhibition at the Royal Academy in London which demonstrates the extraordinary influence that a handful of photographers had when they left Hungary after the First World War and moved to Western Europe and the USA. More than 200 photographs showcase the trailblazing work of Brassai, Robert Capra, Andre Kertesz, Laszlo Moholy-Nagy and Martin Munkacsi.
Producer: Torquil MacLeod.
Last on