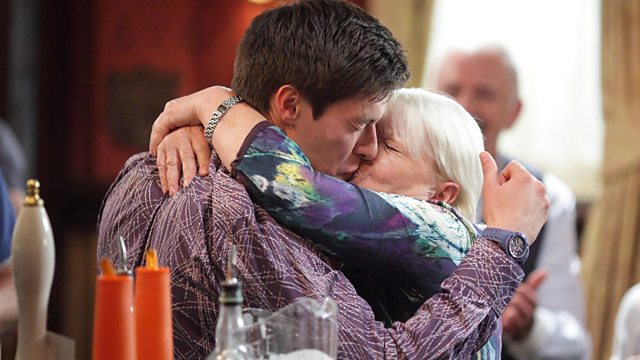 28/06/2011
Loud music wakes the inhabitants of the Vic –Tyler Moon's in the bar. Tyler makes cocktails and gets a kiss from Mo. Three sisters Tyler's been dating come to the pub. After they've thrown drink over Tyler and slapped him, Eddie steers them out of the pub and asks Kat if Tyler can stay for a couple of nights.
Jealous of Phil and Rainie's friendship, Shirley plants crack in the Arches, then texts Rainie from Phil's phone, claiming he wants to meet her there. Later, Shirley finds Rainie lying in the gutter and takes her to Phil. Rainie reveals she's just drunk and hasn't taken anything. Phil realises Shirley's set Rainie up. Rainie knows Shirley only did it because she loves Phil so much and tells Phil she won't interfere. Rainie heads home, sure she's lost her only friend.
Michael sleepwalks into Ronnie's kitchen. He wakes suddenly after breaking a glass and Ronnie tends to his cut finger. Jack makes notes for a plea of mitigation for Ronnie. He's angry when Michael refuses to let him use the gym's money for a top QC. Later, Ronnie talks to Michael about losing Danielle, feeling she's failed at being a mother twice. Michael accepts Eddie's offer of a drink, but after watching Eddie defend Tyler in the pub, tells him to forget it. Jack's thrilled when Michael agrees he can have the money for the QC, as long as Kat and Alfie don't find out. Michael walks into Ronnie and Jack's bedroom and stands over Ronnie as she sleeps.
Janine misses Lydia. The coroner's report arrives, confirming Lydia died of natural causes. Ricky returns home, Janine invites him to her flat and shows him the report, but can't convince him she's innocent.
Last on
Credits
| Role | Contributor |
| --- | --- |
| Michael Moon | Steve John Shepherd |
| Ronnie Branning | Samantha Womack |
| Jack Branning | Scott Maslen |
| Roxy Mitchell | Rita Simons |
| Eddie Moon | David Essex |
| Tyler Moon | Tony Discipline |
| Alfie Moon | Shane Richie |
| Kat Moon | Jessie Wallace |
| Mo Harris | Laila Morse |
| Jean Slater | Gillian Wright |
| Phil Mitchell | Steve McFadden |
| Shirley Carter | Linda Henry |
| Rainie Cross | Tanya Franks |
| Heather Trott | Cheryl Fergison |
| Executive Producer | Bryan Kirkwood |
| Director | Terry Dyddgen-Jones |
| Writer | Heather Robson |
| Pat Evans | Pam St Clement |
| Janine Malloy | Charlie Brooks |
| Ricky Butcher | Sid Owen |
| Tiffany Butcher | Maisie Smith |
| Morgan Jackson-King | Devon Higgs |
| Kelly | Anna Johnson |
| Gemma | Leona O'Sullivan |