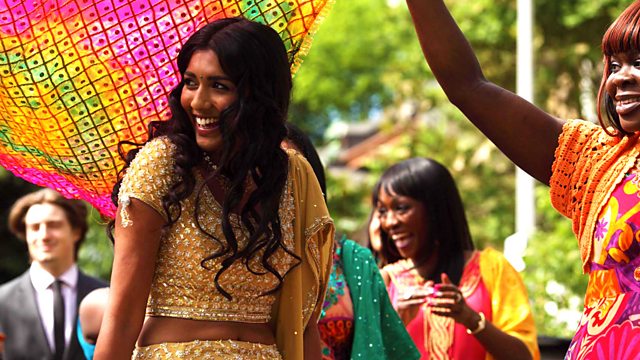 21/06/2011
On Tamwar's mehndi day, Zainab's stressed by the arrival of Yusef's sister- in-law, Shameem. Denise is embarrassed when Kim reveals to Shameem that she's seeing Yusef, and implies that she wants to get married again. Masood tries to convince Zainab that Yusef is trying to replace him, but she scoffs, calling him a failure of a man with a pathetic life. Upset that Masood's banned, Tamwar's heart isn't in the mehndi preparations. As the party processes around the square, Masood jealously watches Yusef with his arm around Tamwar. Later, Ian taunts Masood, if he's a real man he should stop the wedding. At the mehndi, Tamwar's frustrated to learn Zainab's told everyone that Masood is in Pakistan. Zainab warns him, however he's feeling he has to keep it inside. Yusef reminisces about his wedding to Zainab, professing that he fell in love with her that day. Zainab protests, but Yusef insists he won't pretend anymore, he has feelings for Zainab; does she feel the same? As the dancing starts, Masood arrives and attempts to drag Tamwar away, insisting there won't be a wedding today. Tamwar blurts out that he and Afia are already married.
Syed's frustrated when Christian won't wear traditional Muslim dress to the mehndi. Christian later reconsiders, and arrives dressed in a dupatta to support Syed.
Worried she'll take something, Rainie calls Phil. Shirley's annoyed when Phil leaves in the middle of their lunch, but lets him go to support his 'buddy'. She's later furious to discover Phil with Rainie in the Vic, and that Phil's been lying to her.
Carol's annoyed to discover Liam's bunked off school to fix the one armed bandit with Eddie, but later thanks Eddie for spending time with Liam. Eddie thinks Carol deserves to have some fun; they end up kissing.
Last on
Credits
| Role | Contributor |
| --- | --- |
| Masood Ahmed | Nitin Ganatra |
| Zainab Masood | Nina Wadia |
| Dr Yusef Khan | Ace Bhatti |
| Tamwar Masood | Himesh Patel |
| Afia Masood | Meryl Fernandes |
| Syed Masood | Marc Elliott |
| Christian Clarke | John Partridge |
| Executive Producer | Bryan Kirkwood |
| Director | Jerry Smith |
| Writer | Daran Little |
| Denise Fox | Diane Parish |
| Kim Fox | Tameka Empson |
| Darren Miller | Charlie G Hawkins |
| Jodie Gold | Kylie Babbington |
| Lauren Branning | Jacqueline Jossa |
| Arthur 'Fat Boy' Chubb | Ricky Norwood |
| Mercy Chubb | Bunmi Mojekwu |
| Eddie Moon | David Essex |
| Carol Jackson | Lindsey Coulson |
| Liam Butcher | James Forde |
| Rainie Cross | Tanya Franks |
| Phil Mitchell | Steve McFadden |
| Shirley Carter | Linda Henry |
| Tanya Jessop | Jo Joyner |
| Ian Beale | Adam Woodyatt |
| Zulekha Abbassi | Lisa Shah |
| Shameem | Seeta Indrani |