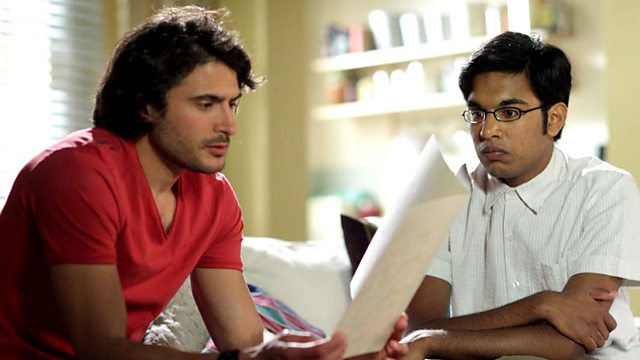 20/06/2011
Yusef persuades Zainab to let him invite Syed and Christian to the wedding. Syed refuses the invitation as it comes with the condition that he and Christian don't flaunt their relationship. Tamwar tells Syed he wants him there. Later, Zainab hands Syed a dupatta and asks if they will both please come to the wedding. After talking to Yusef, Afia insists she doesn't want Masood at the wedding. Tamwar's unhappy about it, but Afia, and later Yusef, are persuasive. Masood's devastated when Tamwar tells him he can't come to the wedding, Tamwar insists it's how he wants it. Once Tamwar's gone Masood opens the Father's Day card he left, underneath Tamwar's handprint he's written 'I'm sorry'. Masood accuses Yusef of being behind the decision and declares there's not going to be a wedding.
Tanya wants to spend the day alone with Greg, but he's already suggested a Father's Day barbeque to Max. At the barbeque, Tanya acts like nothing happened between her and Max and tells him to be nice to Greg.
Michael ignores Eddie when he brings him a boxing ticket. At Max and Tanya's barbeque, Michael pleases Eddie, telling everyone they're going to the boxing together. However, when they're alone, Michael hands back the ticket - he wouldn't be seen dead at the boxing with Eddie and with his help everyone will find out what Eddie's really like.
Billy tells Phil all charges have been dropped against Henry Mason. Phil accuses Julie of stealing his mug and gets angry with her for failing to shut up Ian, who's outside playing tennis with Bobby. Billy and Julie move out and scrape together enough money to stay in the B&B. Billy tells Julie he wants to find their son, but she says no.
Last on
Credits
| Role | Contributor |
| --- | --- |
| Masood Ahmed | Nitin Ganatra |
| Dr Yusef Khan | Ace Bhatti |
| Tamwar Masood | Himesh Patel |
| Afia Masood | Meryl Fernandes |
| Zainab Masood | Nina Wadia |
| Syed Masood | Marc Elliott |
| Christian Clarke | John Partridge |
| Max Branning | Jake Wood |
| Tanya Jessop | Jo Joyner |
| Greg Jessop | Stefan Booth |
| Lauren Branning | Jacqueline Jossa |
| Abi Branning | Lorna Fitzgerald |
| Billy Mitchell | Perry Fenwick |
| Julie Perkins | Cathy Murphy |
| Phil Mitchell | Steve McFadden |
| Eddie Moon | David Essex |
| Michael Moon | Steve John Shepherd |
| Roxy Mitchell | Rita Simons |
| Alfie Moon | Shane Richie |
| Ian Beale | Adam Woodyatt |
| Denise Fox | Diane Parish |
| Bobby Beale | Alex Francis |
| Executive Producer | Bryan Kirkwood |
| Director | Karl Neilson |
| Writer | Peter Mattessi |