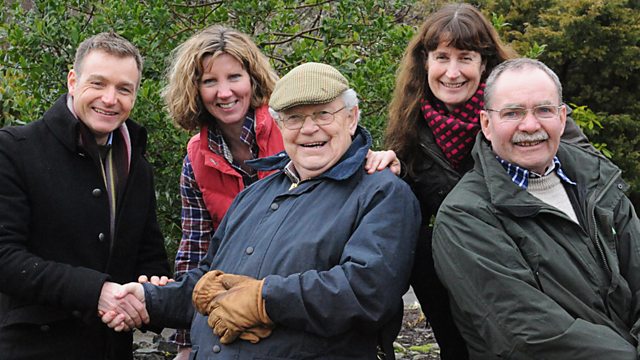 Gardening programme celebrating Scottish gardens, with horticultural tips and tricks, presented by Jim McColl, Carole Baxter, Lesley Watson, George Anderson and Carolyn Spray.
In the Beechgrove Garden, Jim is in the cage, the fruit cage that is, where the crop is protected from fruit-picking birds. There is also a fragrance of France as the fruit has been kept free of pests with garlic spray. Jim will be reviewing what's going on in the orchard and pruning and planning for autumn fruit.
Carole is trying something new, planting a range of 'micro leaves'. These are the new must-have salad leaves with stunning colours and intense flavour - chefs in fashionable restaurants rave over these tiny tasties. Micro leaves are salads and vegetables harvested at a very young and tender stage in the growing process, and we are told, so easy to grow and most are ready to crop in 7-to-14 days.
George Anderson is with the Hunts in Kelso, who bought a one acre building plot four years ago. They have been working on the garden and have developed lots of areas - a vegetable garden, shrub beds, herbaceous beds, fruit garden, orchard wildflower area, conifer bed - and the plants have grown very well indeed, better than they had anticipated. This has resulted in a problem, as now they need to be shown how to prune and maintain their plants. George gives Peter and Virginia a masterclass on pruning and plant management and maintenance.
Carole visits Rosemary Jarvis in Dollar who has a really colourful and mixed garden with several mixed shrub and herbaceous borders, a wildlife pond, two rockeries, alpine troughs, fruit and veg gardens, and a mini-orchard. Rosemary is a plantaholic and likes to collect unusual specimens. She has pitcher plants in her bog garden which are flowering at the moment. The garden is sheltered by the Ochils so she can have lots of tender plants. Rosemary also has a wonderful collection of hostas.
Last on
Credits
| Role | Contributor |
| --- | --- |
| Producer | Gwyneth Hardy |
| Presenter | Jim McColl |
| Presenter | Carole Baxter |
| Presenter | Lesley Watson |
| Presenter | George Anderson |
| Presenter | Carolyn Spray |