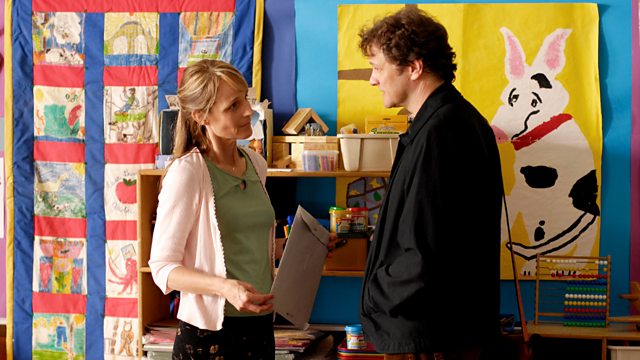 Then She Found Me
Comedy drama. Fearing her biological clock is winding down, schoolteacher April (Helen Hunt) is desperate to have a baby. But her life is turned upside down when her husband leaves, her adoptive mother dies and her biological mother suddenly turns up wanting to rekindle their relationship. A new affair with the father of a student gives April hope, but mother nature and human nature both have more surprises in store.
How long is Then She Found Me available on BBC iPlayer?
This programme is only on BBC iPlayer for 7 days after broadcast. We always aim to offer our programmes to stream for 30 days; however for a number of reasons including technical problems, legal or contractual issues this isn't always possible.
Credits
| Role | Contributor |
| --- | --- |
| April Epner | Helen Hunt |
| Frank | Colin Firth |
| Bernice Graves | Bette Midler |
| Ben | Matthew Broderick |
| Freddy | Ben Shenkman |
| Alan | John Benjamin Hickey |
| Dr Masani | Salman Rushdie |
| Ruby | Daisy Tahan |
| Jimmy Ray | Tommy Nelson |
| Stacey | Stephanie Yankwitt |
| Trudy Epner | Lynn Cohen |
| Alan | John Benjamin Hickey |
| Director | Helen Hunt |
Mark Kermode reviews Then She Found Me